It is inefficient to copy and paste complicated alphanumeric 26-42 characters every time you send or receive cryptocurrency, or to manage several crypto addresses for each currency.

It is difficult to know who (or where) you are sending the money to, and there is a possibility that you may make a mistake in sending the money, which may be a source of anxiety, especially for beginners.

With a NFT domain, you can send and receive cryptocurrency as easily as sending an email using a username address such as [name.wallet]. This article provides a clear explanation of how to get NFT domain.
What is a blockchain domain (NFT domain)?
Currently, cryptocurrency transactions use complex alphanumeric cryptographic addresses of 26 to 42 characters. However, there are many types of cryptocurrencies, and if you use multiple currency exchanges and wallets, you will have many addresses to use and manage. If you inadvertently make a mistake in transferring money, you risk losing a large sum of money.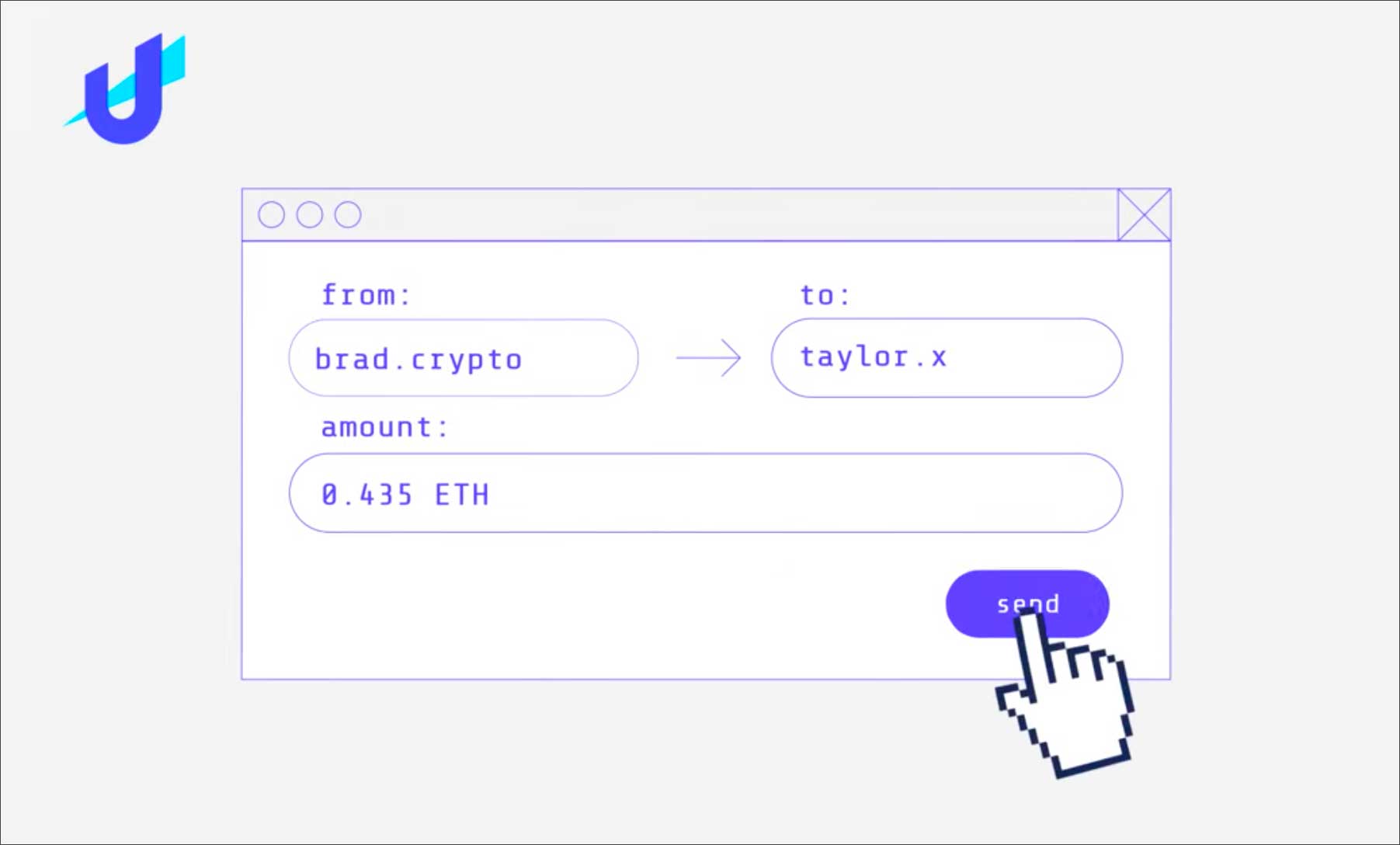 イメージ
With a NFT domain, sending cryptocurrency is as easy as sending an Email. For example, a "user name address" using a NFT domain can be compared to a conventional cryptographic address as follows.
26-42 alphanumeric characters:
0x468B609Cb13Eb1126260f91cD4FC22F98ea499Ec

Blockchain Domain (NFT Domain):
yutaka.wallet
NFT domainers can see at a glance where to send money. Moreover, this single domain can send and receive various cryptocurrency addresses, eliminating the need to manage many addresses for each currency.

Individuals may use their first name or handle, business owners may use a service name, product name, or trade name, and companies may use their company name as a domain name.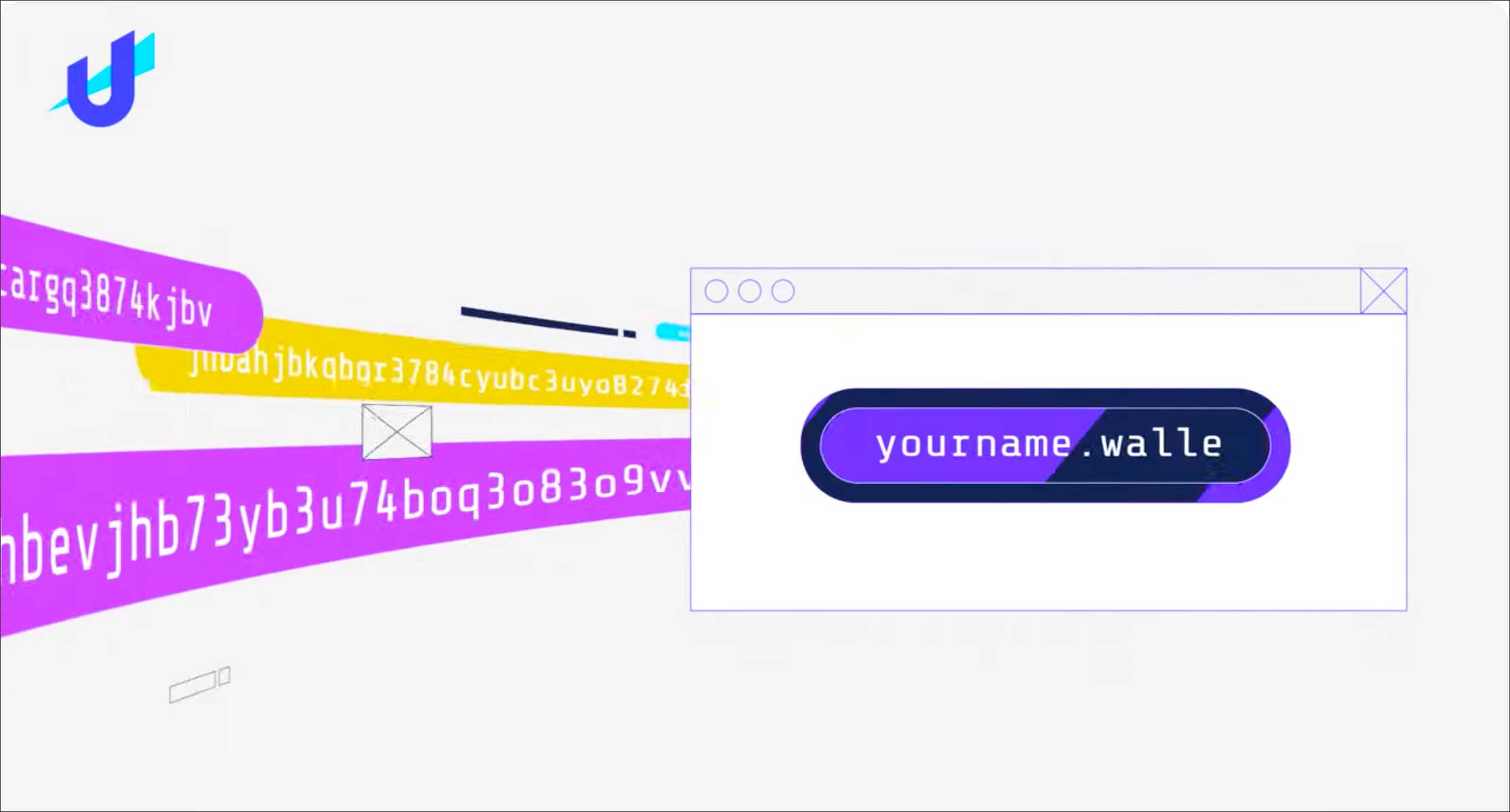 Currently, not all crypto wallets and exchanges support sending and receiving money in the NFT domain, but 32 major wallets/exchanges have recently formed the .Wallet Alliance, and it has been decided that all companies will be able to send and receive money in the [.wallet] domain in the future. The following is a summary of the results of the survey.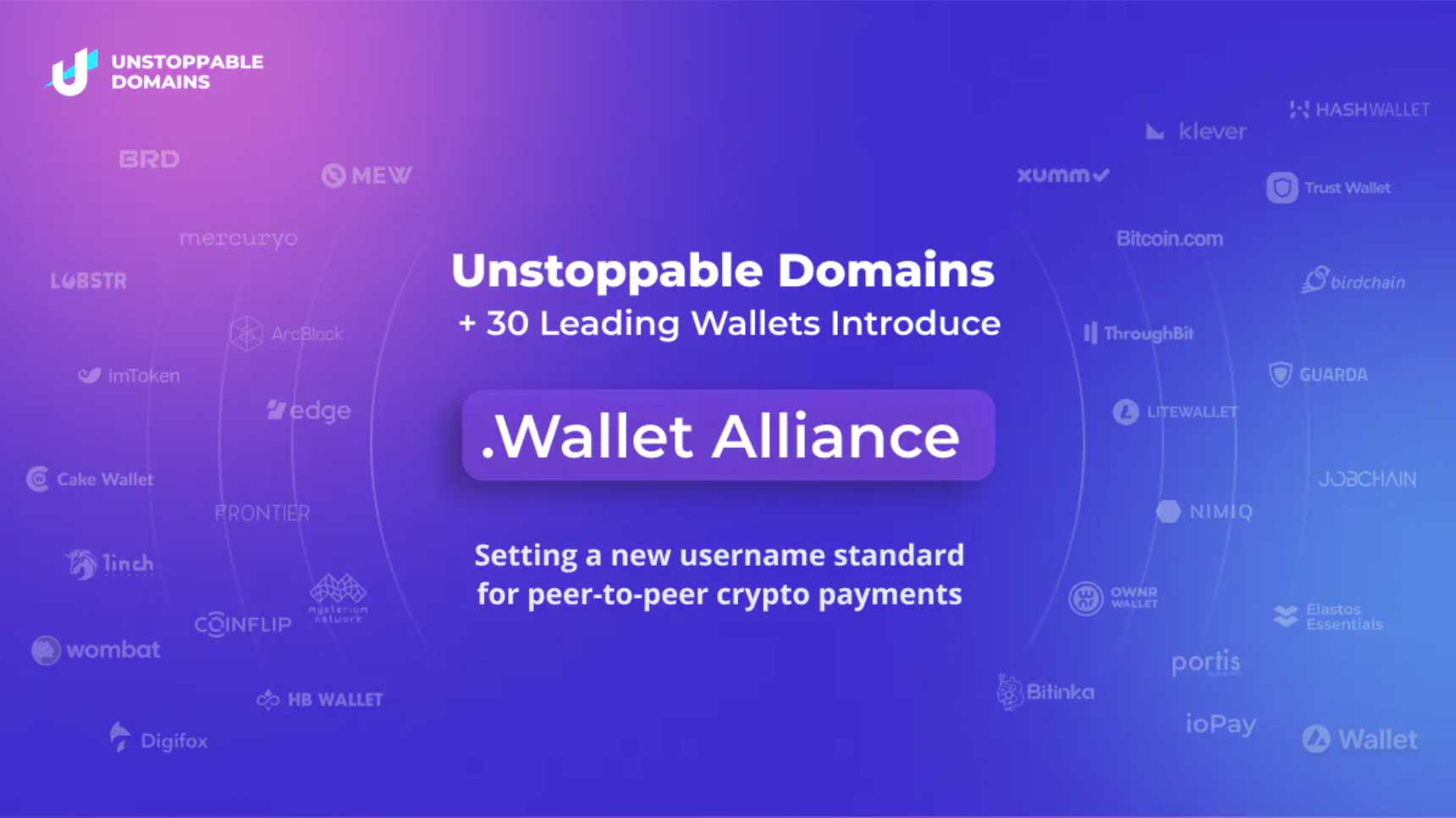 As cryptocurrency and NFT transactions expand from a limited segment of the population to the general public or business segment in the future, there will be a need for an easier and safer mechanism for transactions. Accordingly, we expect that the number of information-sensitive individuals and companies acquiring NFT domains will increase rapidly.
Possibility of not being able to obtain the domain name you want to get
NFT domains are essential for the future of crypto trading, but one thing to keep in mind is that the "first come, first served" method of acquiring domain names for NFT domains. If you have a domain name that you wish to acquire, you must secure it before it is acquired by another party (company).

If the domain is acquired by someone else (a company) first, you will have to wait for the domain to be put up for sale, and you will be forced to buy it at a higher price than the initial price. So, it is best to get the domain name you really want as soon as possible.(There are many domain names that are already unavailable.)
The NFT domain is provided by

The provider of NFT domains is Unstoppable Domains. So far, I have used the [.wallet] domain for sending and receiving crypto as an example, but Unstoppable Domains offers the following 10 types of domains.
| | | | | |
| --- | --- | --- | --- | --- |
| .x | .crypto | .coin | .wallet | .bitcoin |
| .888 | .nft | .dao | .zil | .blockchain |
For regular domains (like .com), there is a renewal fee to continue using the domain, and if you forget to pay, your ownership expires. With a NFT domain, you only pay the initial acquisition fee and it is yours forever, no renewal fees are required.

It can also be used not only as a crypto address, but also as a URL for a website or as a user name or ID on a web service. More and more people are setting NFT domains as their Twitter usernames these days.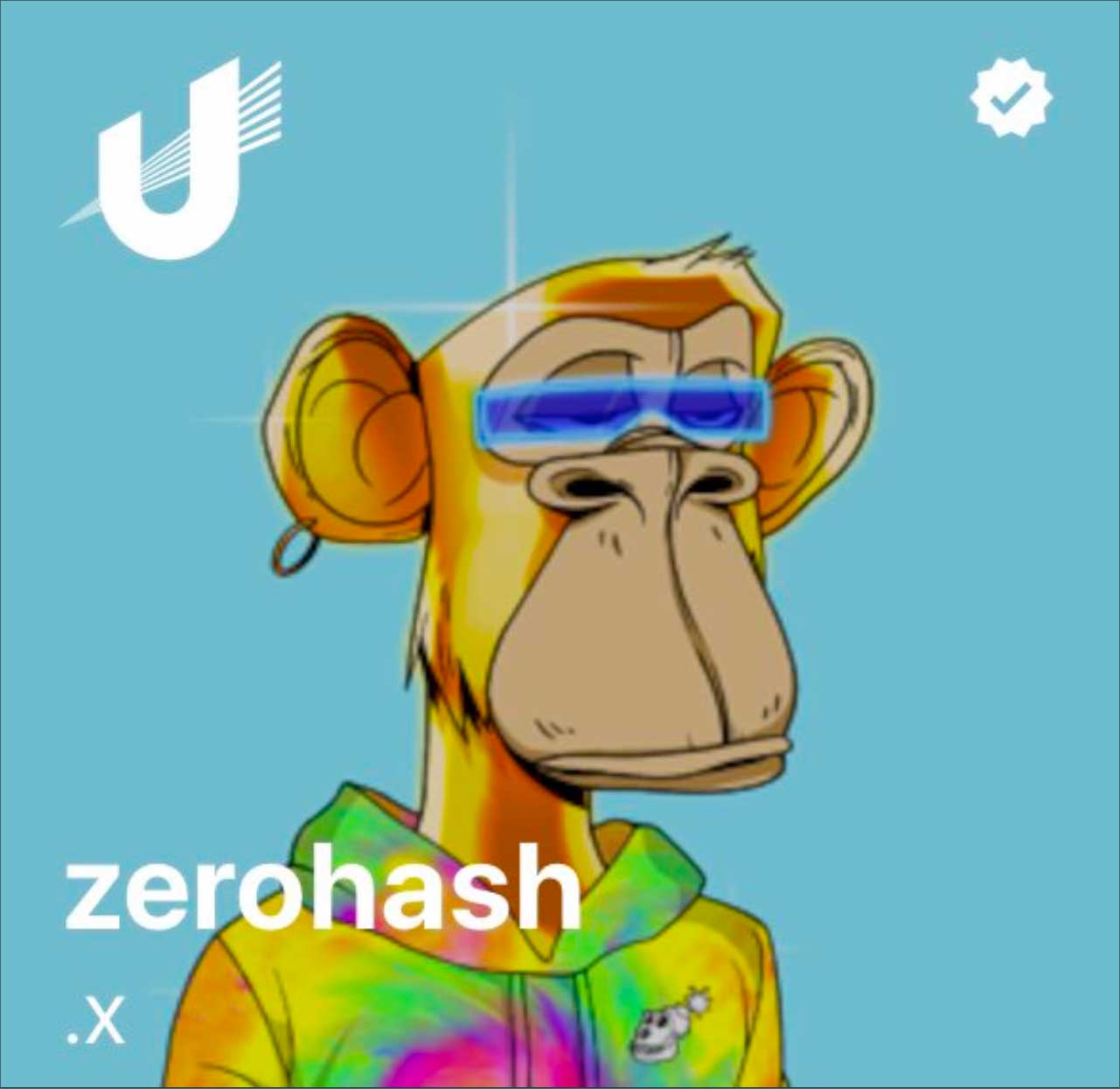 You can also set your NFT as your profile picture.
Furthermore, various features have been added, such as login functions and NFT gallery settings. First, you should check to see if an NFT domain is available for the user name you wish to obtain, and at what price.
Get a NFT Domain
To obtain a blockchain domain, first create an account at the official Unstoppable Domains website. Then, click on the icon in the upper right corner of the site.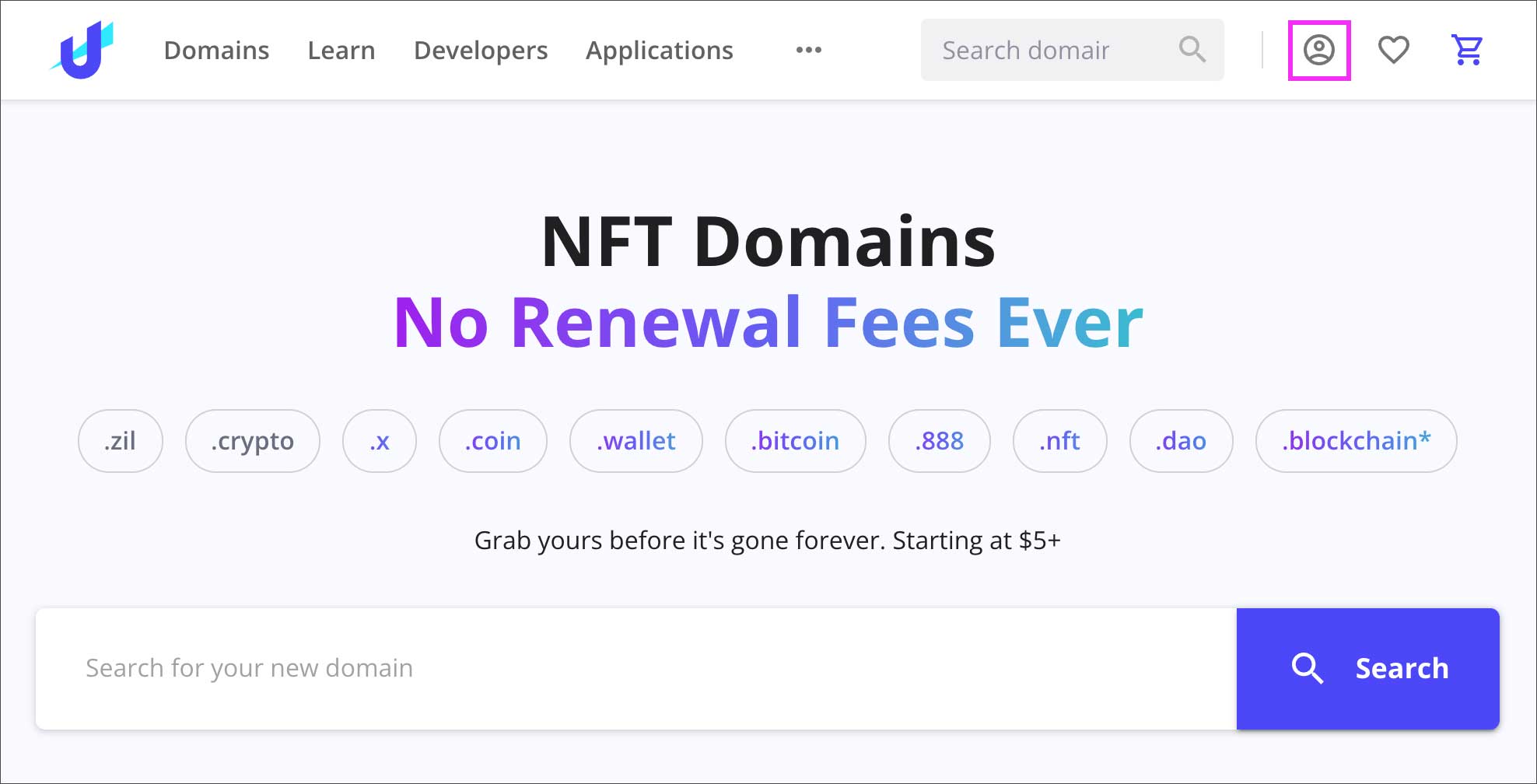 You will see the sign-up screen as shown below, so create an account and log in to the site. By the way, all you need to enter when creating an account is your e-mail address and password.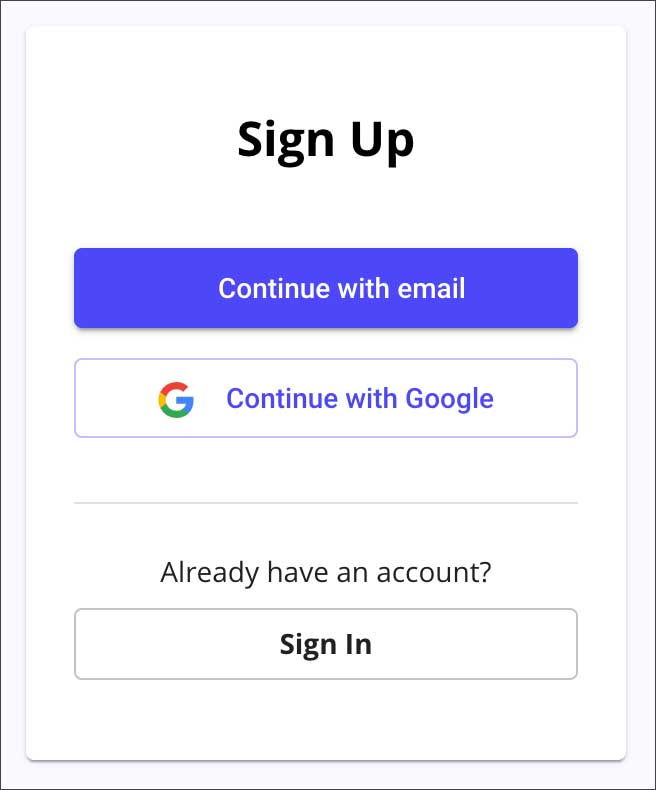 Once you have created an account, search for the domain name you want to get in the search field on the top page. As an example here, let's enter "techffee (the name of this blog site)" and click the SEARCH button.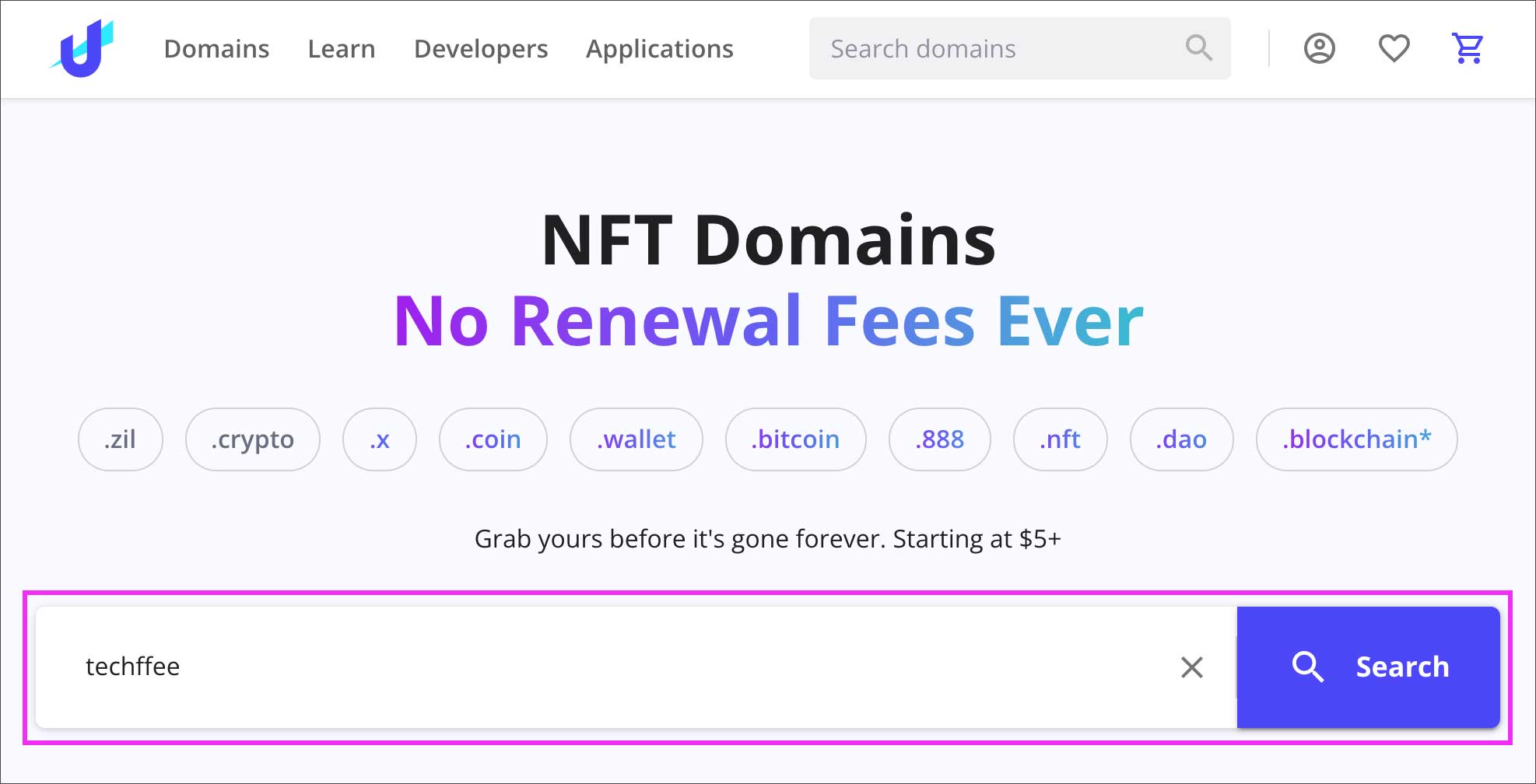 The search results were displayed as follows. You can see the domains that can be obtained with the string "techffee". Those with a green check mark are available. You also see the amounty it costs to get. The cheapest ones can be purchased from $5 to $20.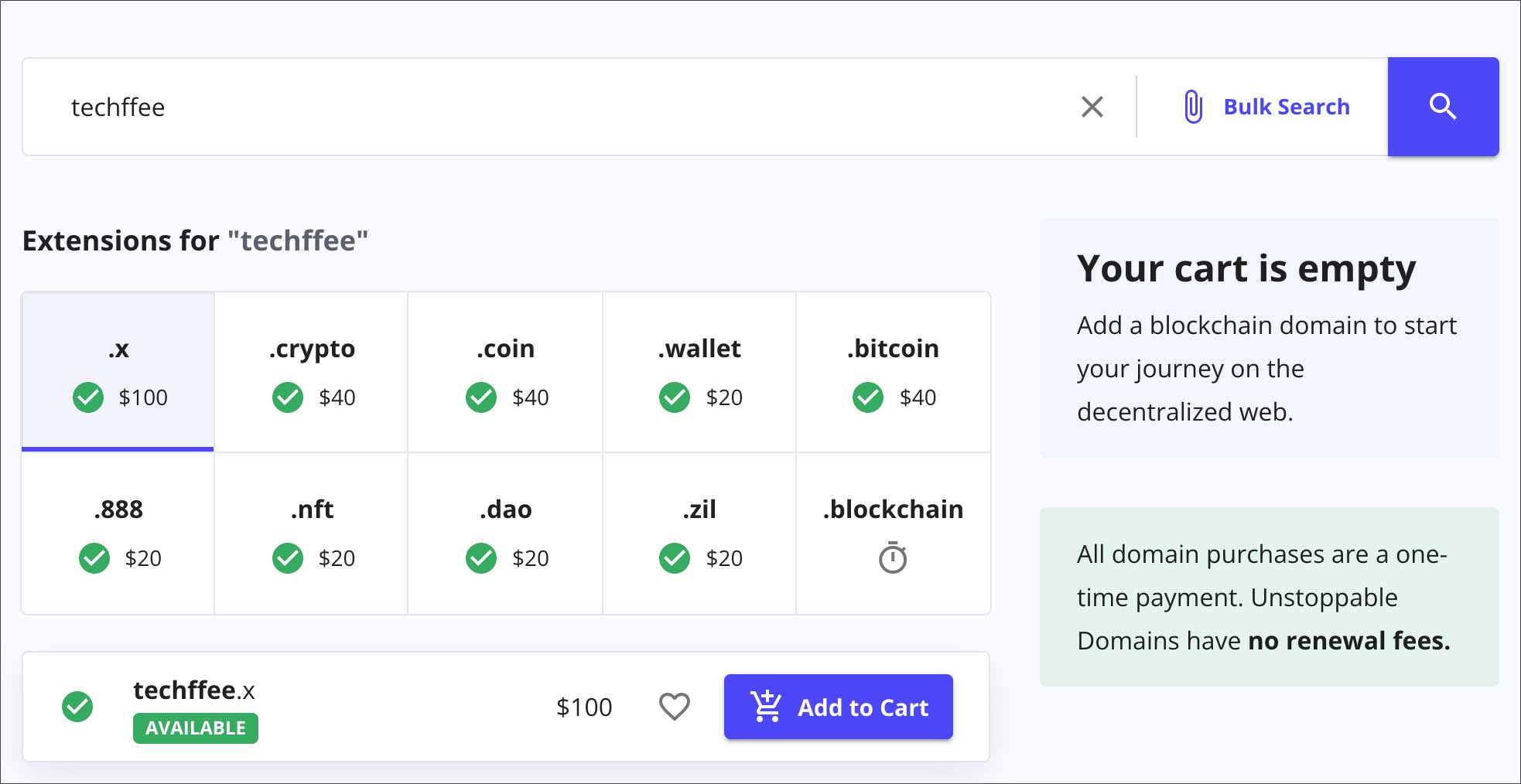 For example, a search using the word "cat" yielded the following results. In the case of [cat.crypto], $50,000 is quite high.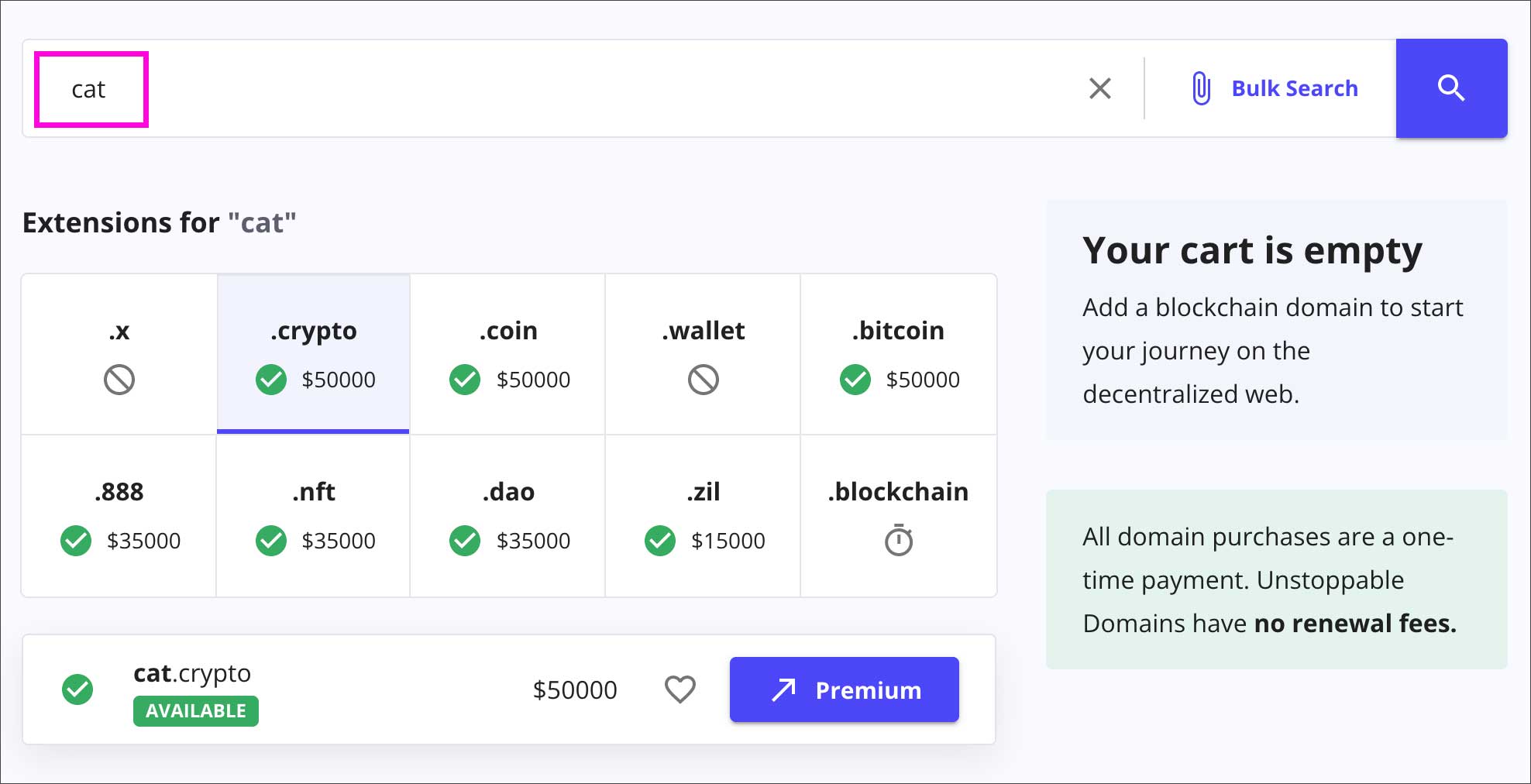 Premium Domains NFT Sale page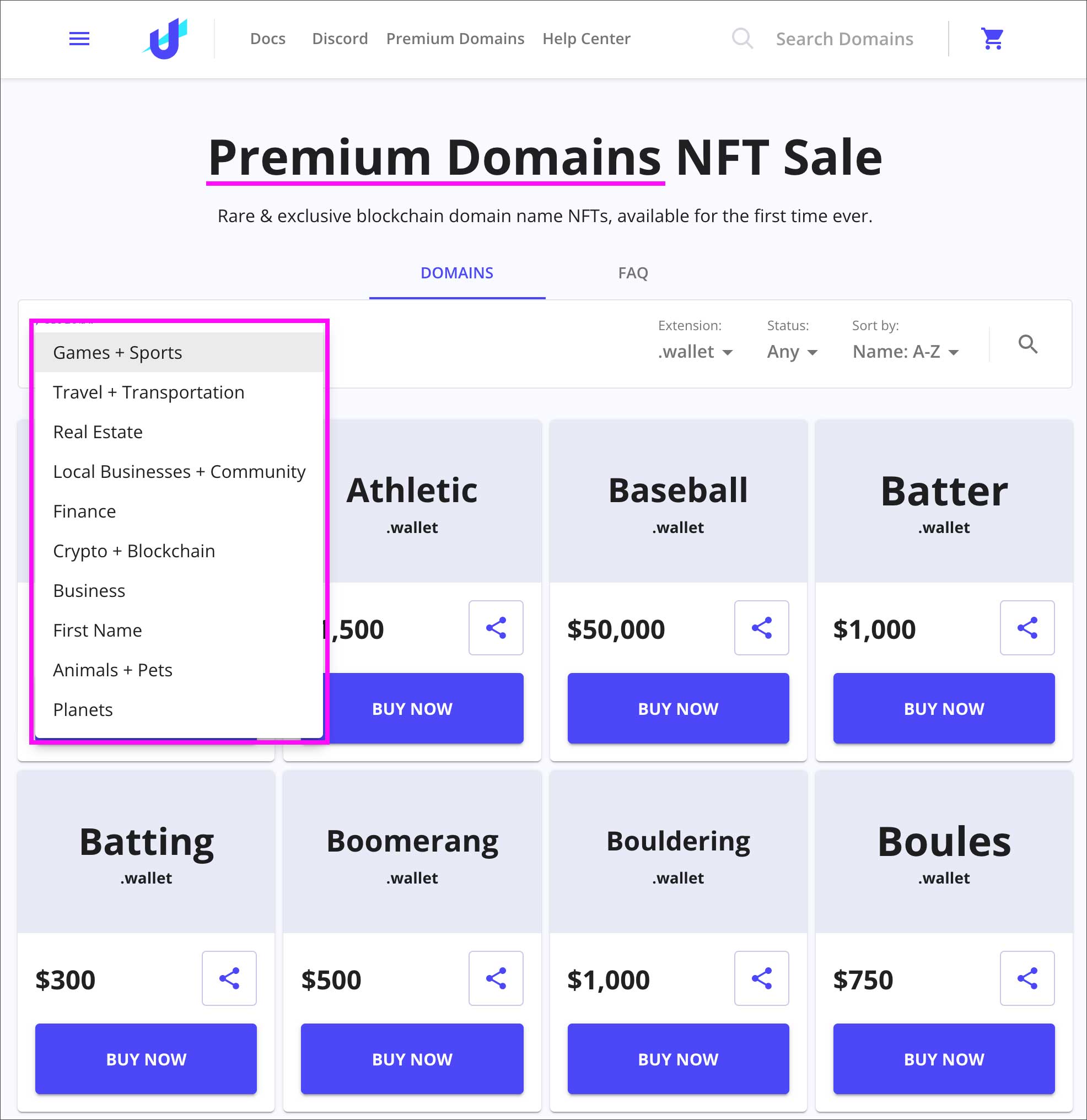 You can display by category.
Now, I would like to get an NFT domain with my first name as the domain name.

When I searched with my name, all types of domains were available. For the purpose of using NFT domains for sending and receiving cryptocurrency, I will try to obtain a ".wallet" domain. Select [.wallet] and click "Add to Cart".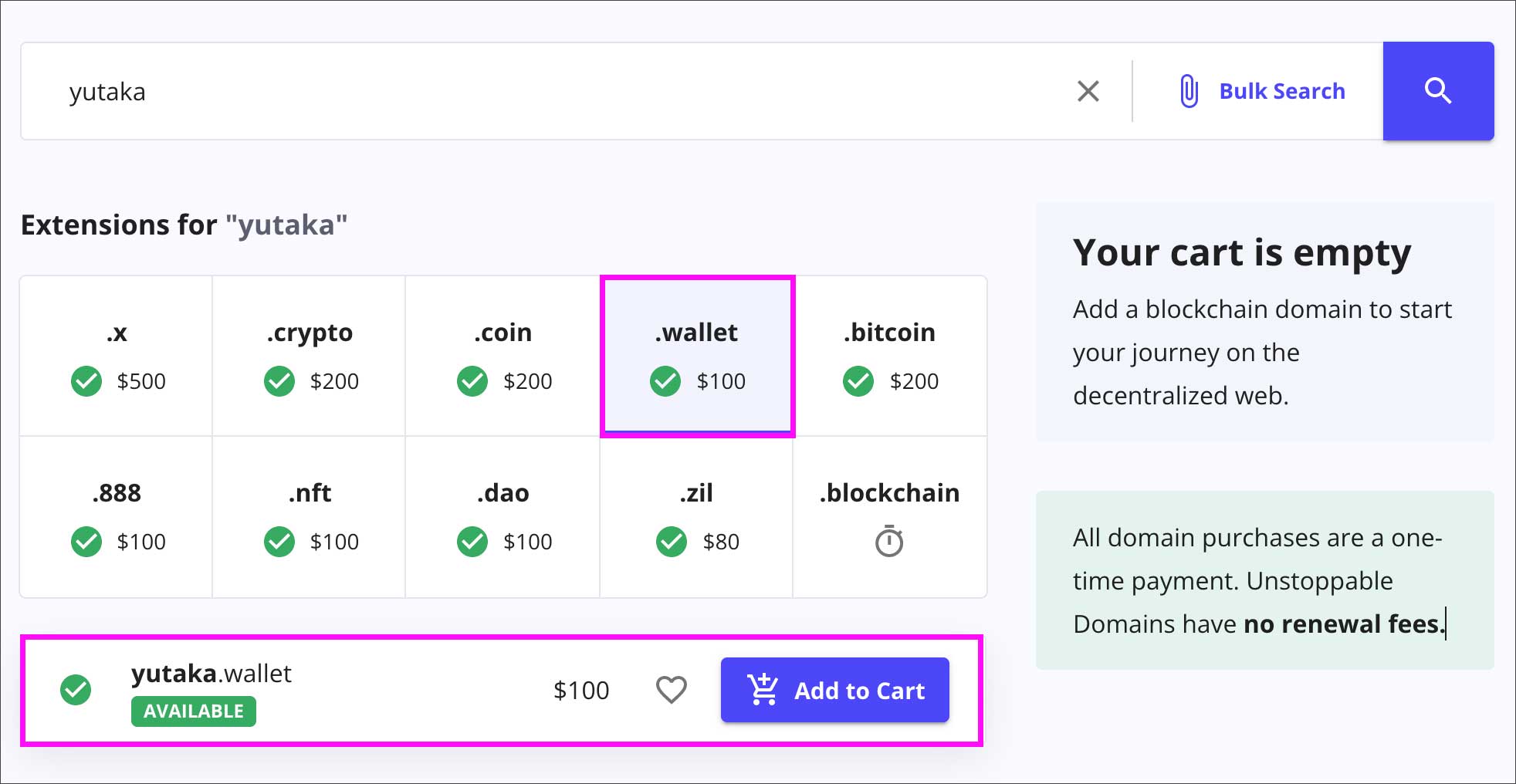 The domain will be placed in the cart as below and then press "Continue to Cart" button.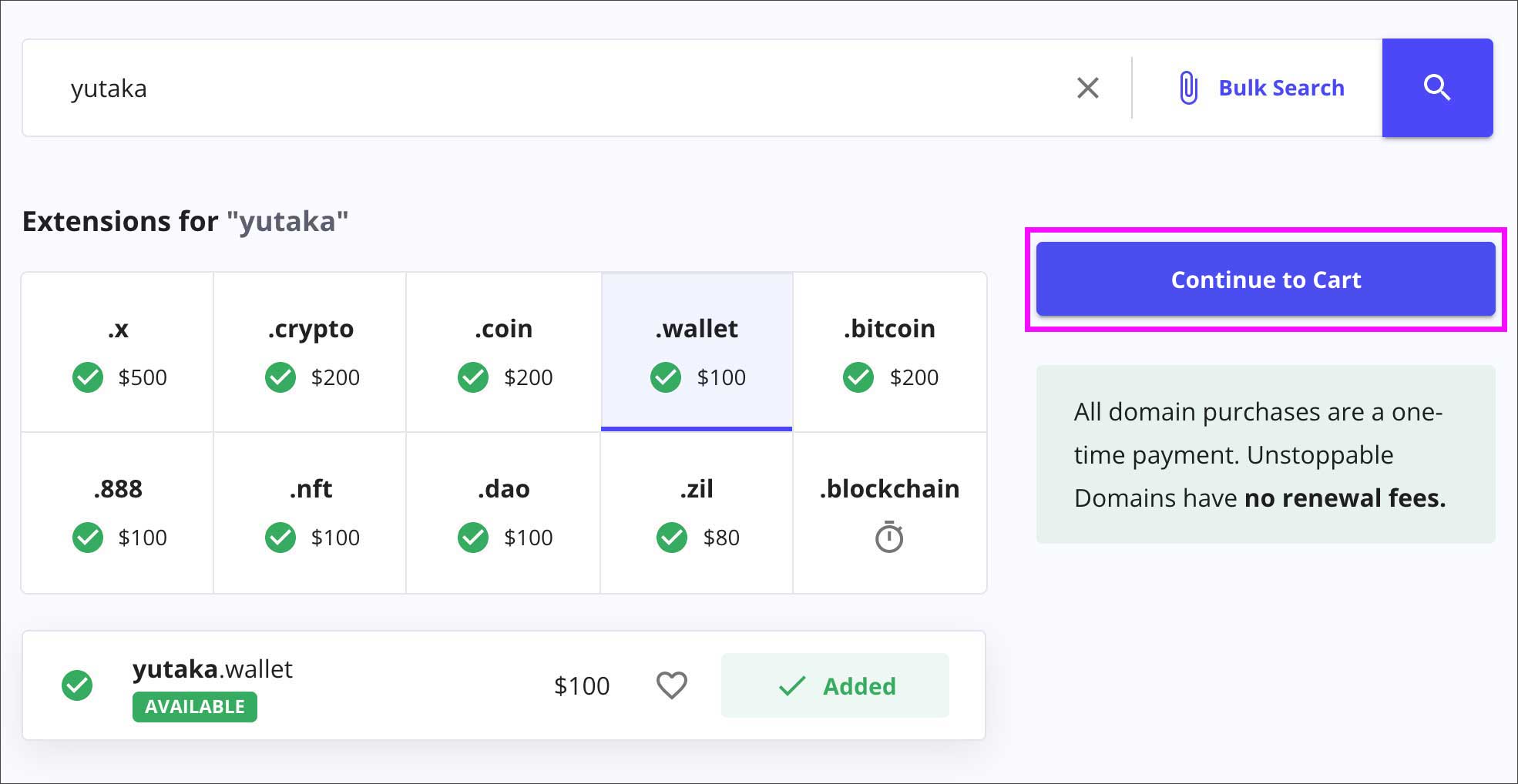 Confirm the domain name and the amount, and if everything is in order, click "Checkout".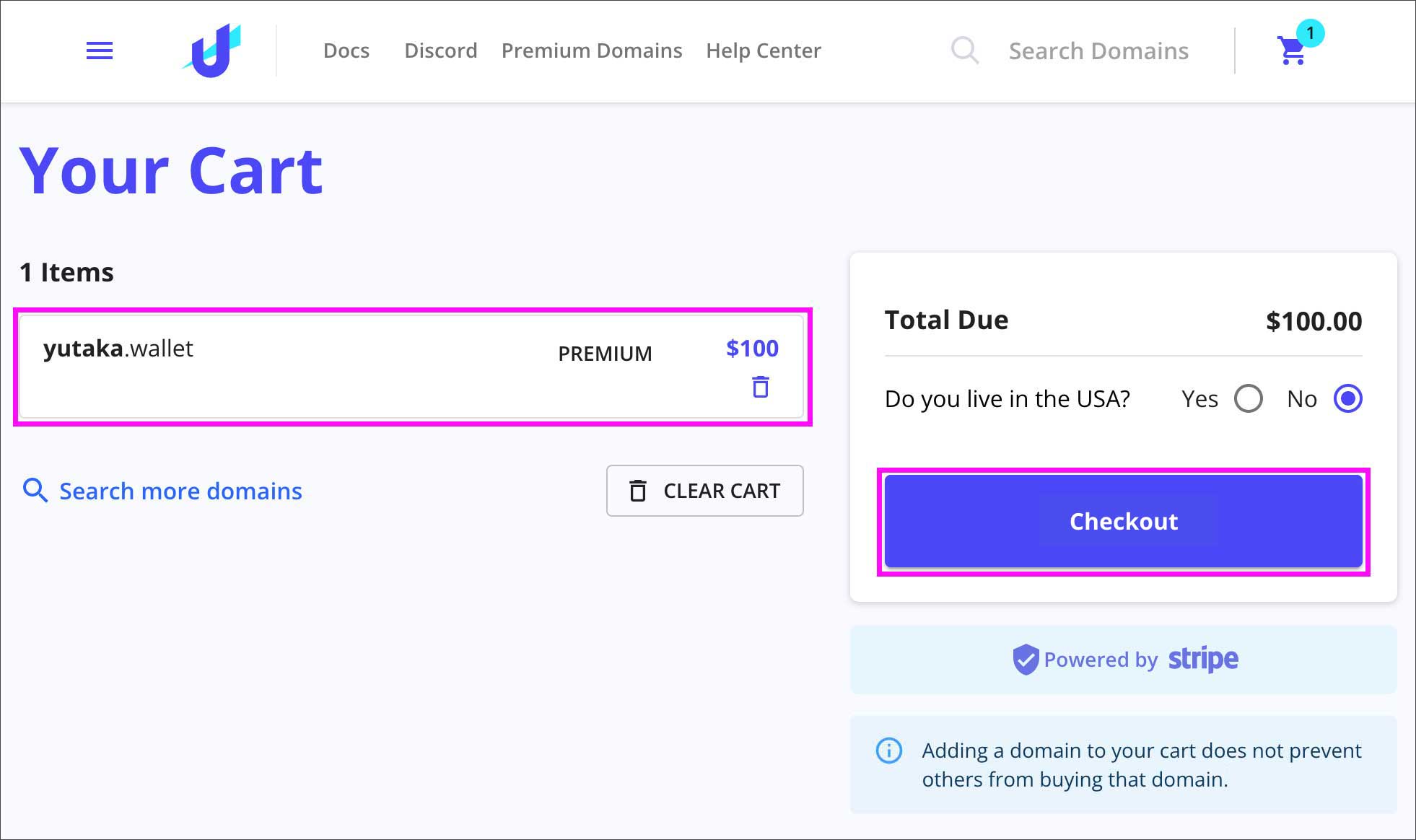 The Payment Method screen will appear. You can choose a payment method from "Credit Card, PayPal, Cryptocurrency, and Crypto.com App" as shown below. I paid by credit card this time. After entering payment information, click "SUBMIT PAYMENT.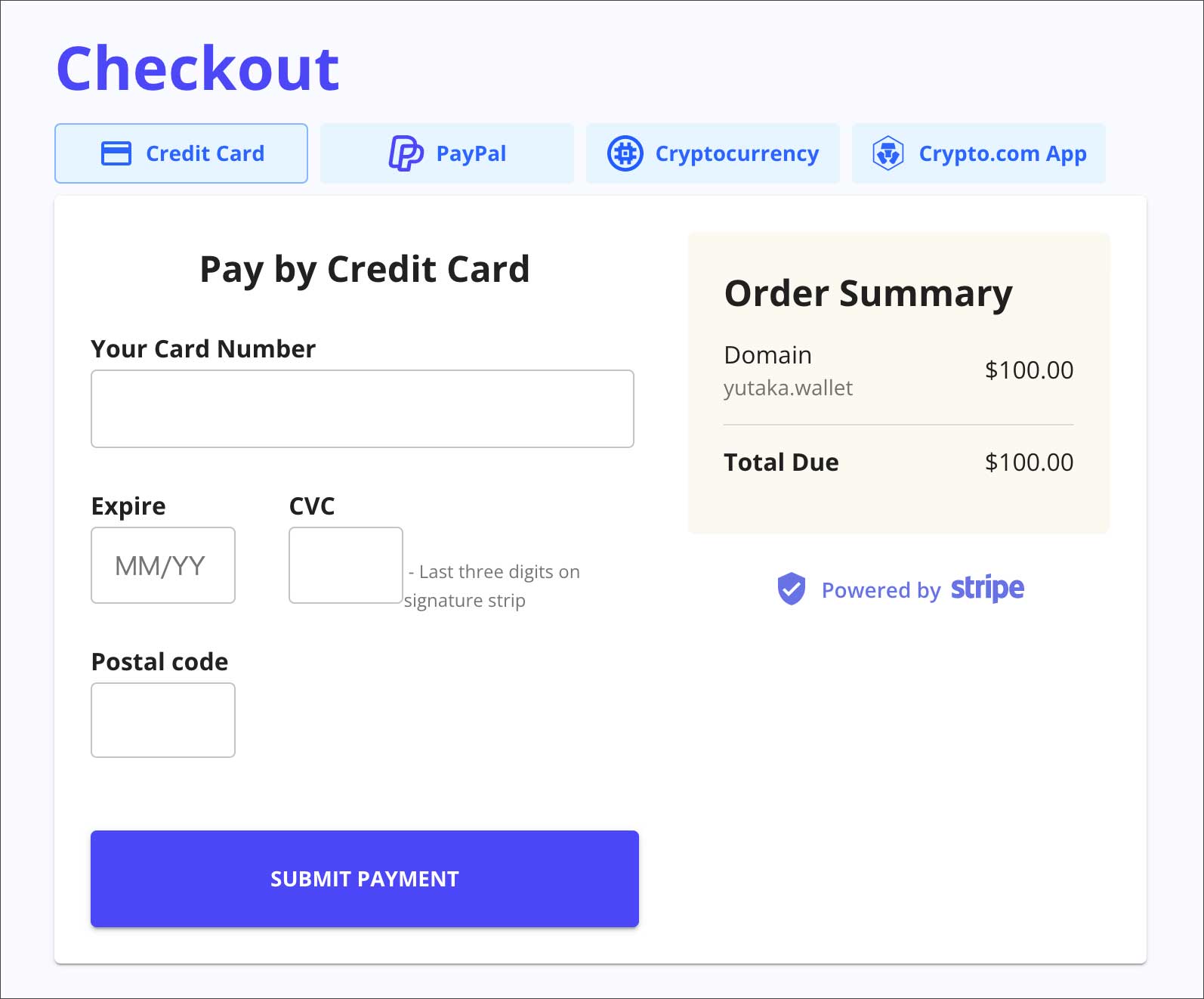 When the payment is completed, you will see the following screen. You will receive a receipt e-mail to your registered e-mail address, so be sure to check it. The acquisition of your NFT domain is now complete. That was easy. As long as you acquire it, you no longer have to worry about others taking it.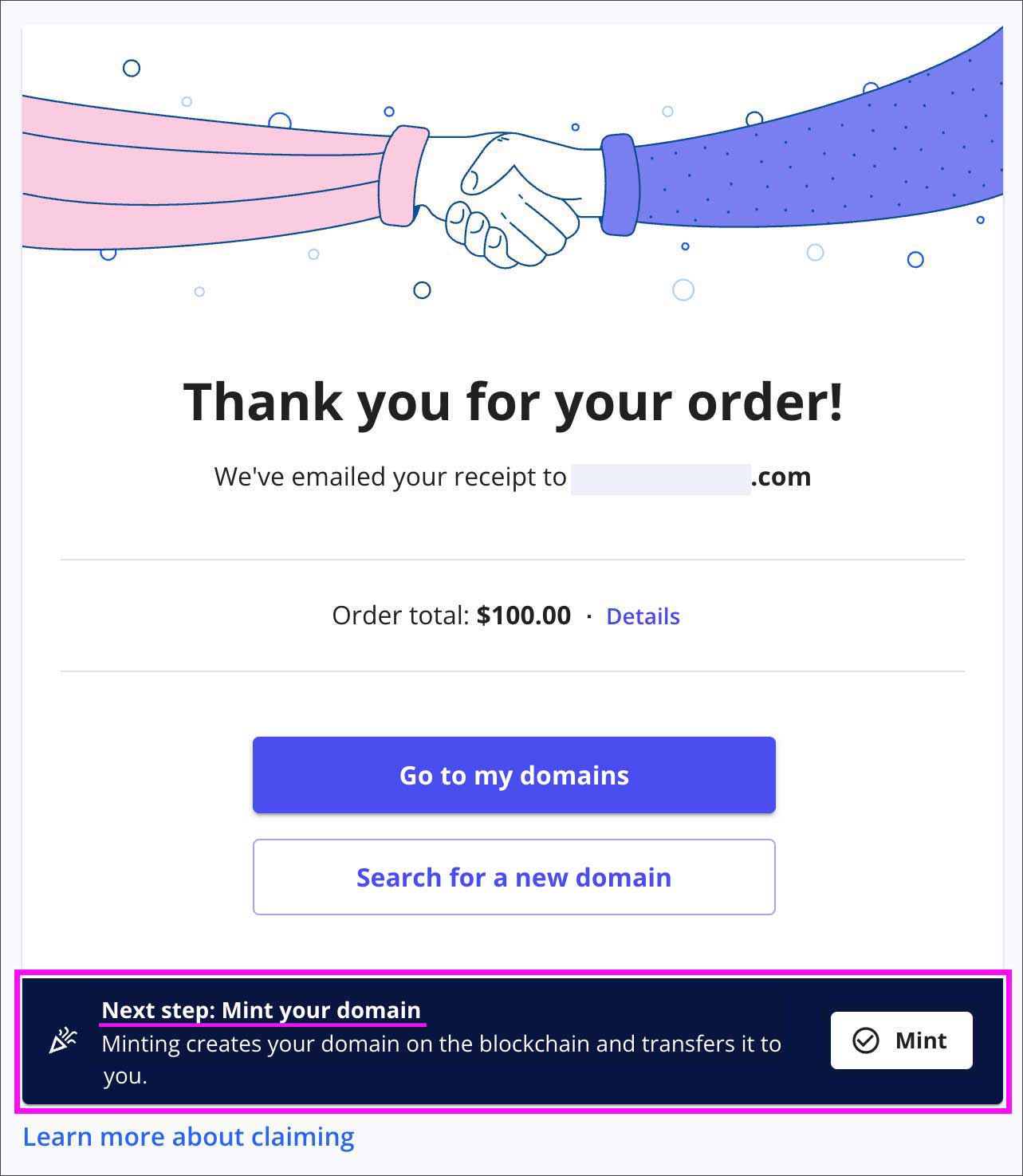 Now, if you look at the above, you see "Next step: Mint your domain". This "MIint" is the process of writing on the blockchain that your NFT domain belongs to your wallet.
Free MINT and MANAGE on your domain!
The following two processes are required to use your NFT domain for sending/receiving cryptocurrency.
① Mint:
・Write the domain to the blockchain.
② Manage:
・Add a cryptocurrency address to your domain.
 (Various other functions are also available.)
Until now, when making (writing) any changes on the Ethereum blockchain, such as "Mint" and "Manage" above, there has been a high gas fee (computation fee) as an Ethereum transaction fee.

But as of November 15, 2021, Polygon's network will be implemented as a Layer 2 solution, and gas fee in the Mint process is now completely free! Also, the Manage feature has been completely free since about November 29. 🚀
Mint your NFT domain
Click on the "Mint" button to record the "ownership" of your NFT domain in the blockchain.

Alternatively, you can click on the "Free Mint" button on the right side of the corresponding domain on the My Domains page below.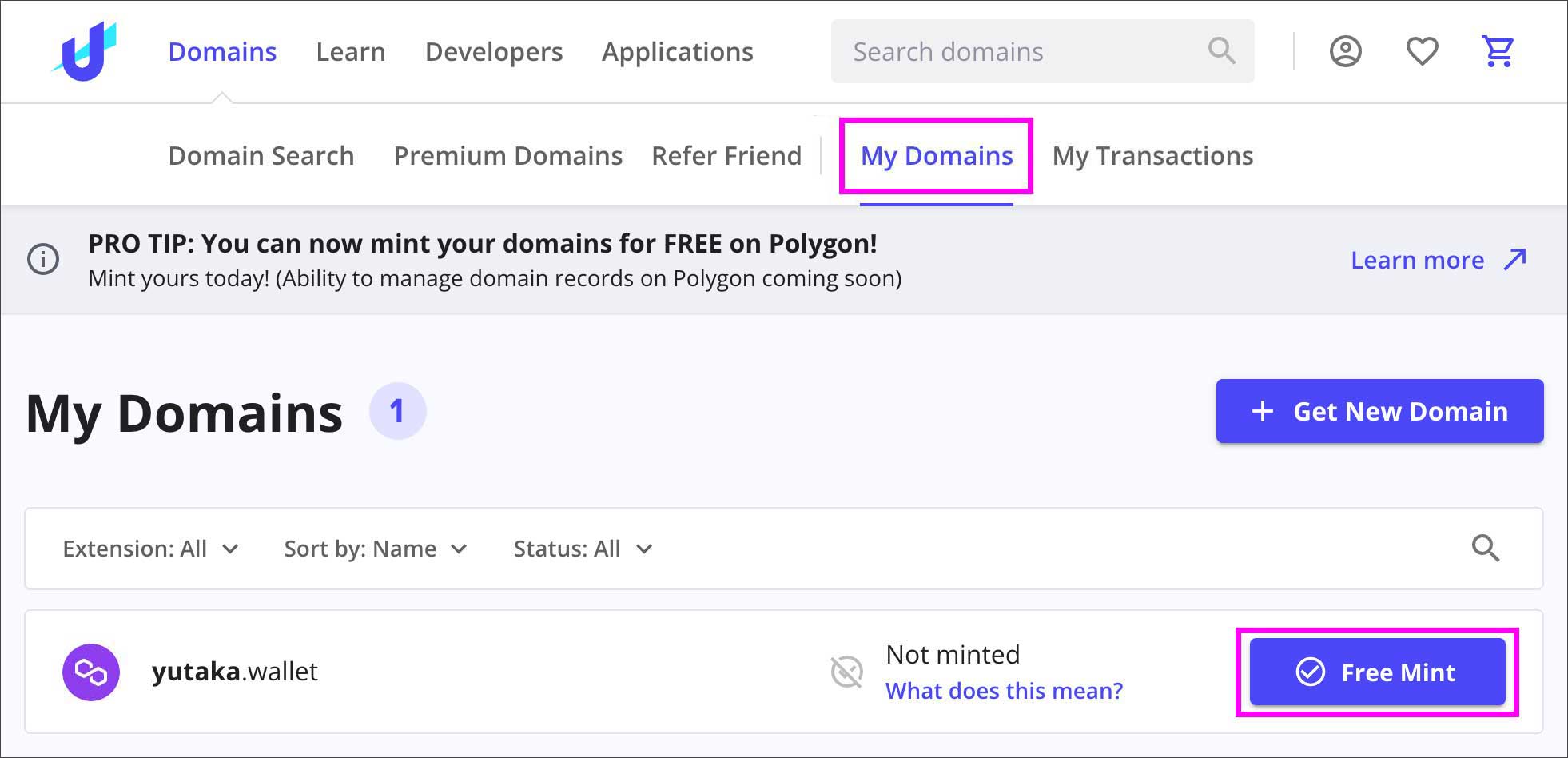 The Mint Domain screen will appear. Click on "Send Verification Code" as you will first need to verify your identity by email. (You can also set up 2-step verification.)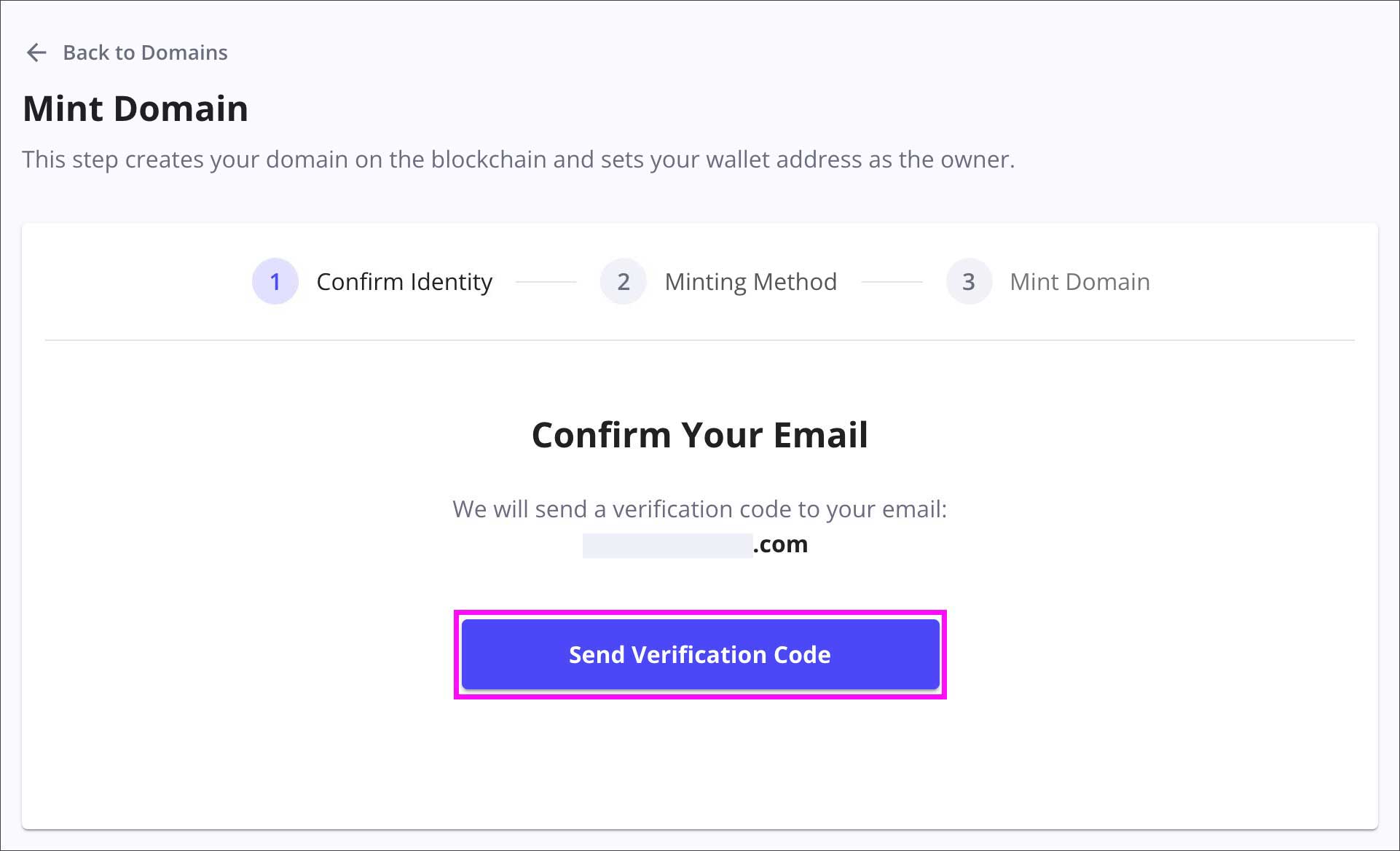 Enter the verification code from the email you received and click "Confirm".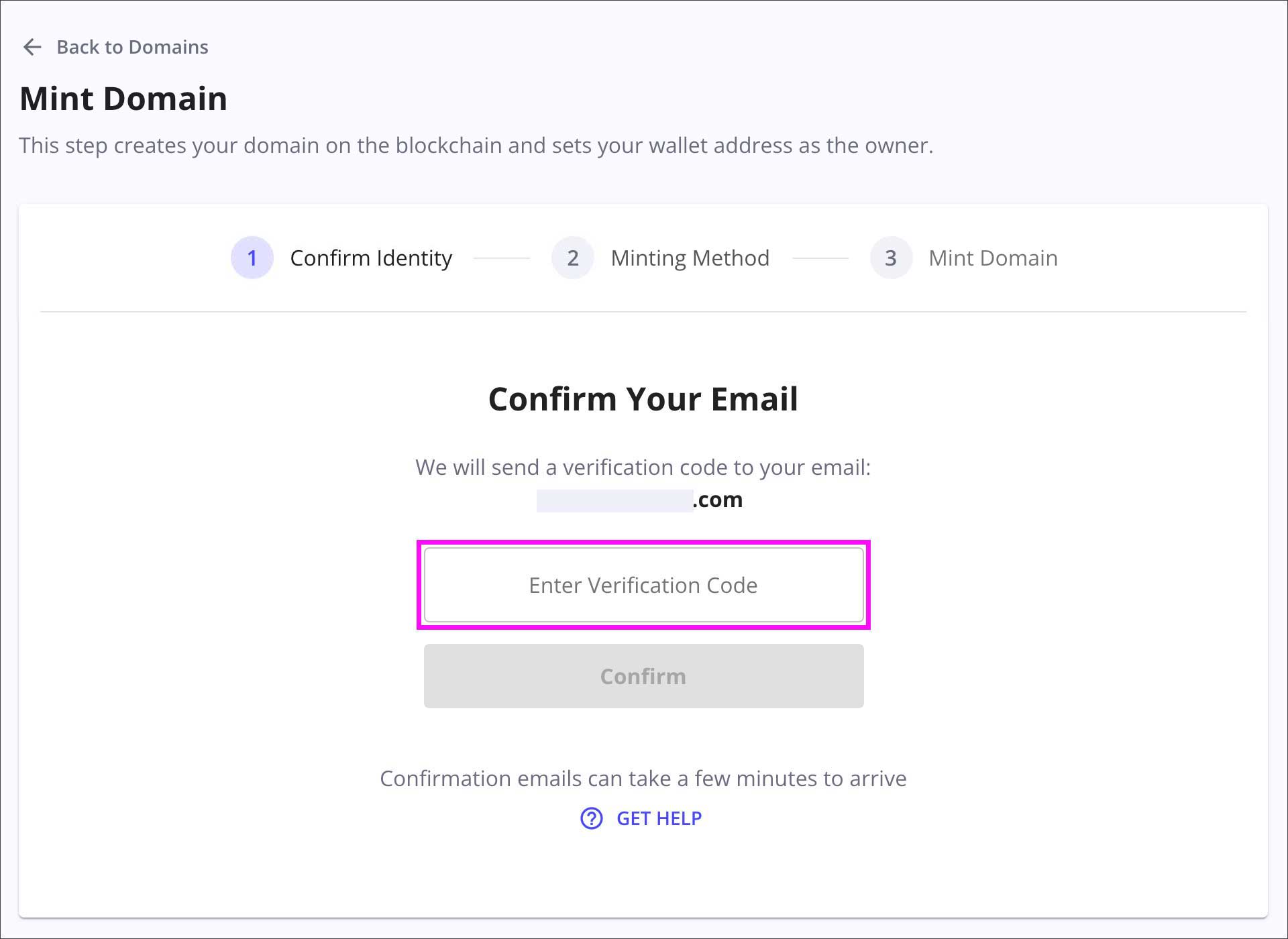 Connects your crypto Wallet to record the "ownership" of your NFT domain in the blockchain. There are several choices for Wallet, but here I will select "MetaMask," which is widely used.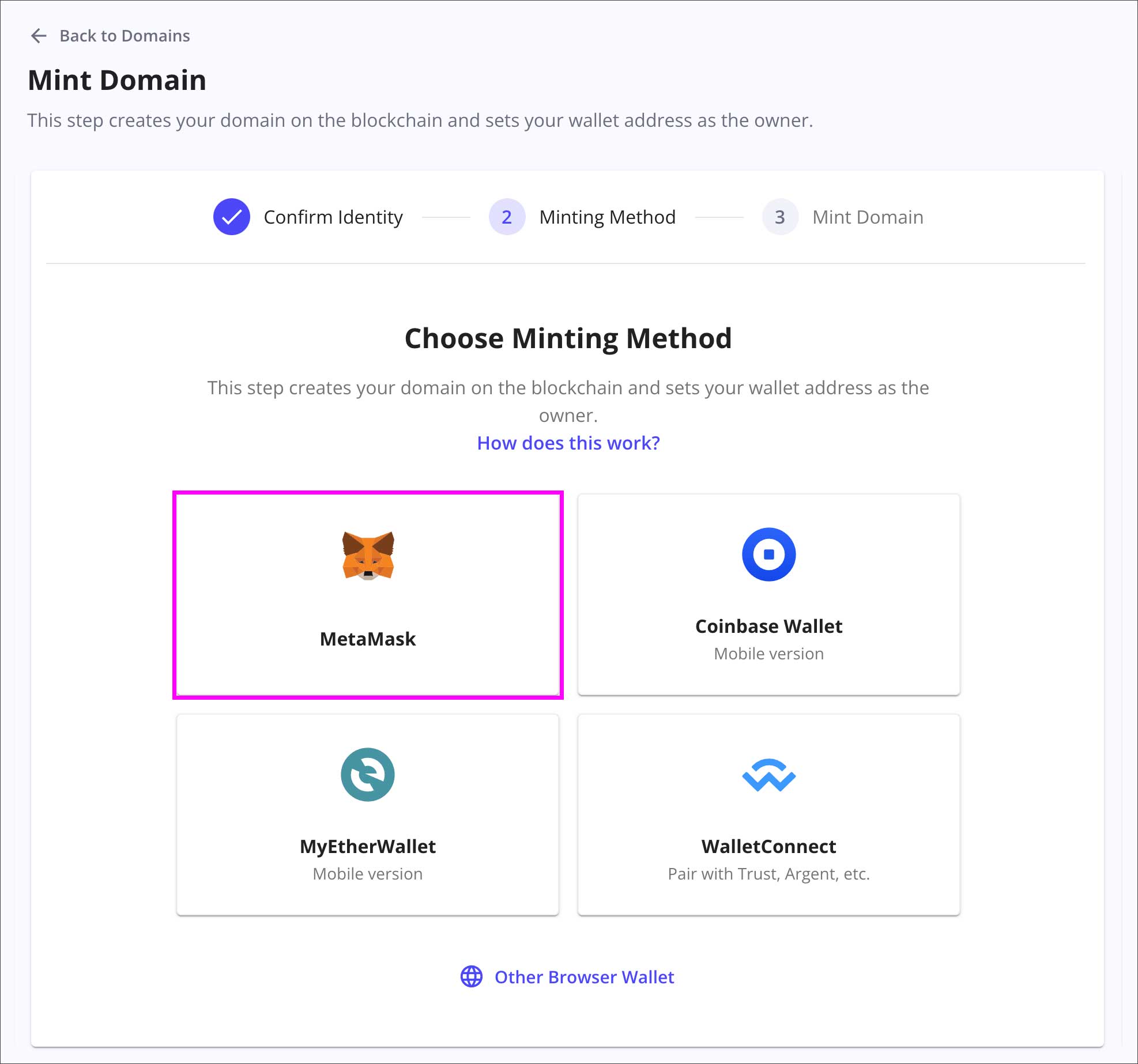 Click "Next" to have MetaMask connect to the Unstoppable Domains site.
It is not a problem that MATIC balance is zero.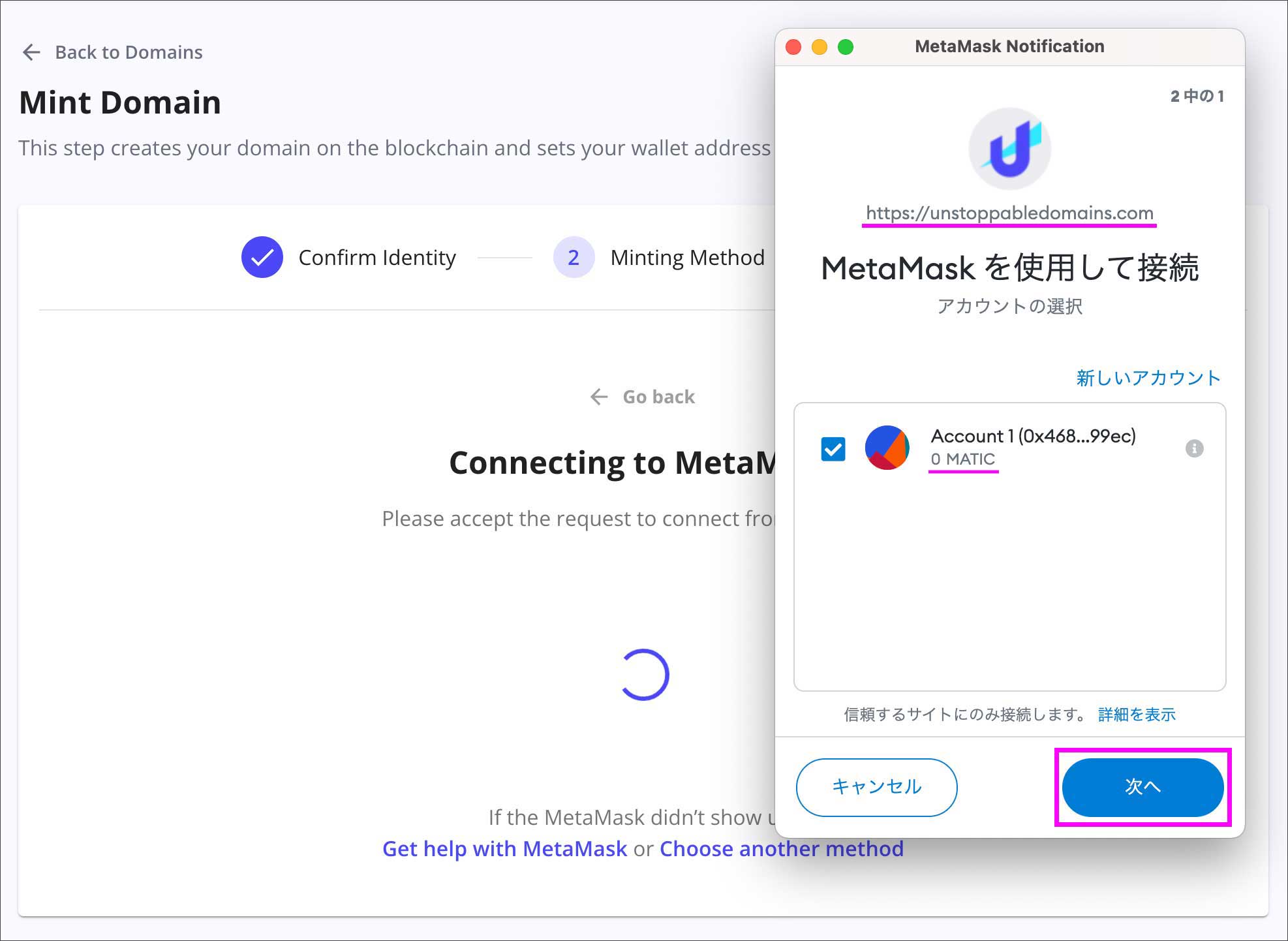 Click on "Connect" and then "Sign" to connect MetaMask to the Unstoppable Domains site.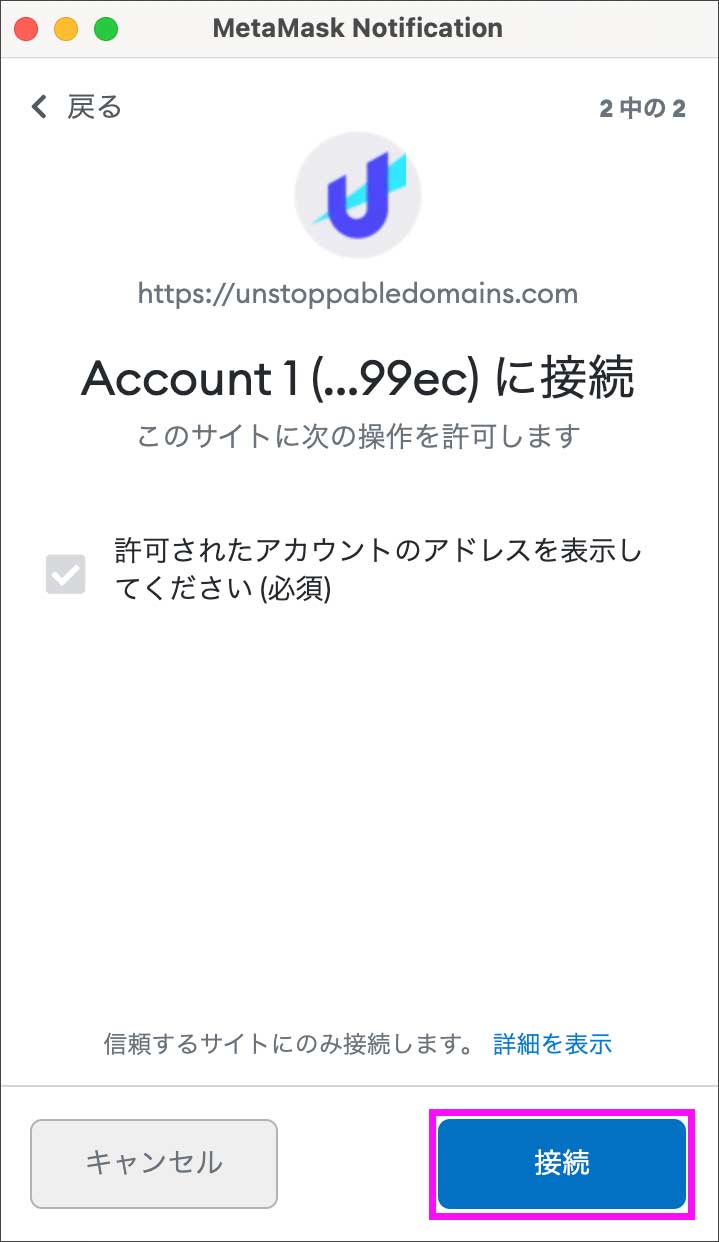 Click Connect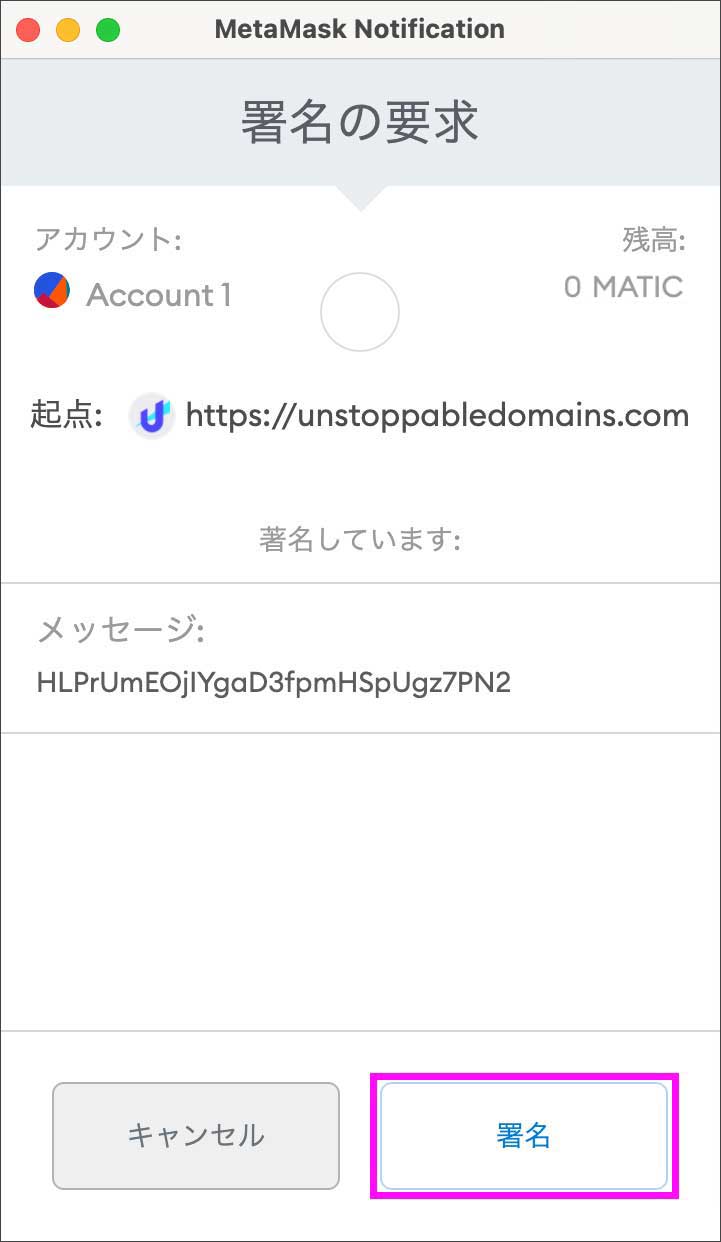 Click Sign
The following screen will appear "Domain owner will be assigned to the following Wallet address".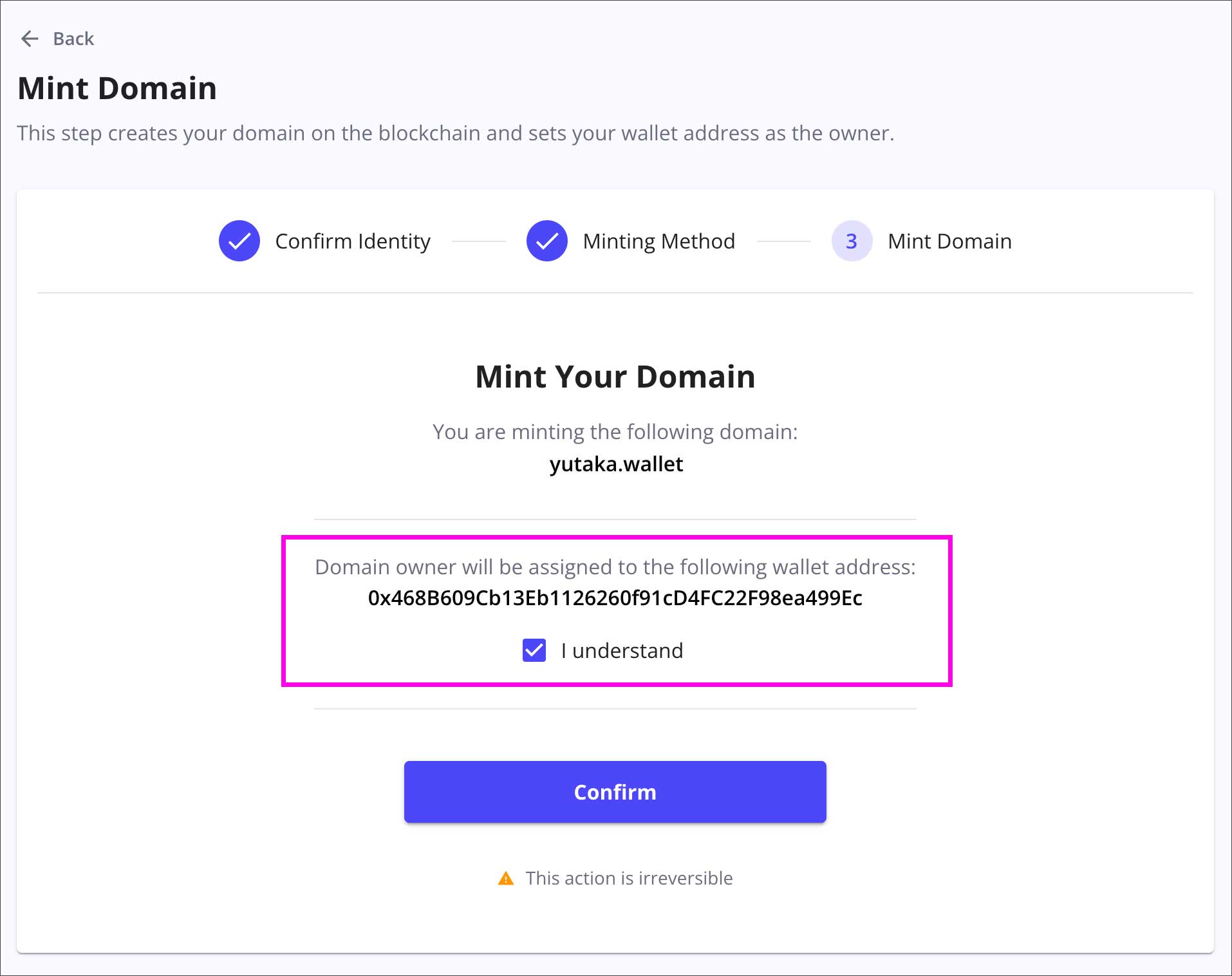 The screen will display "Your domain is now being deployed into the blockchain and your crypto-wallet." Then, press the "Track Pregress" button to check the progress.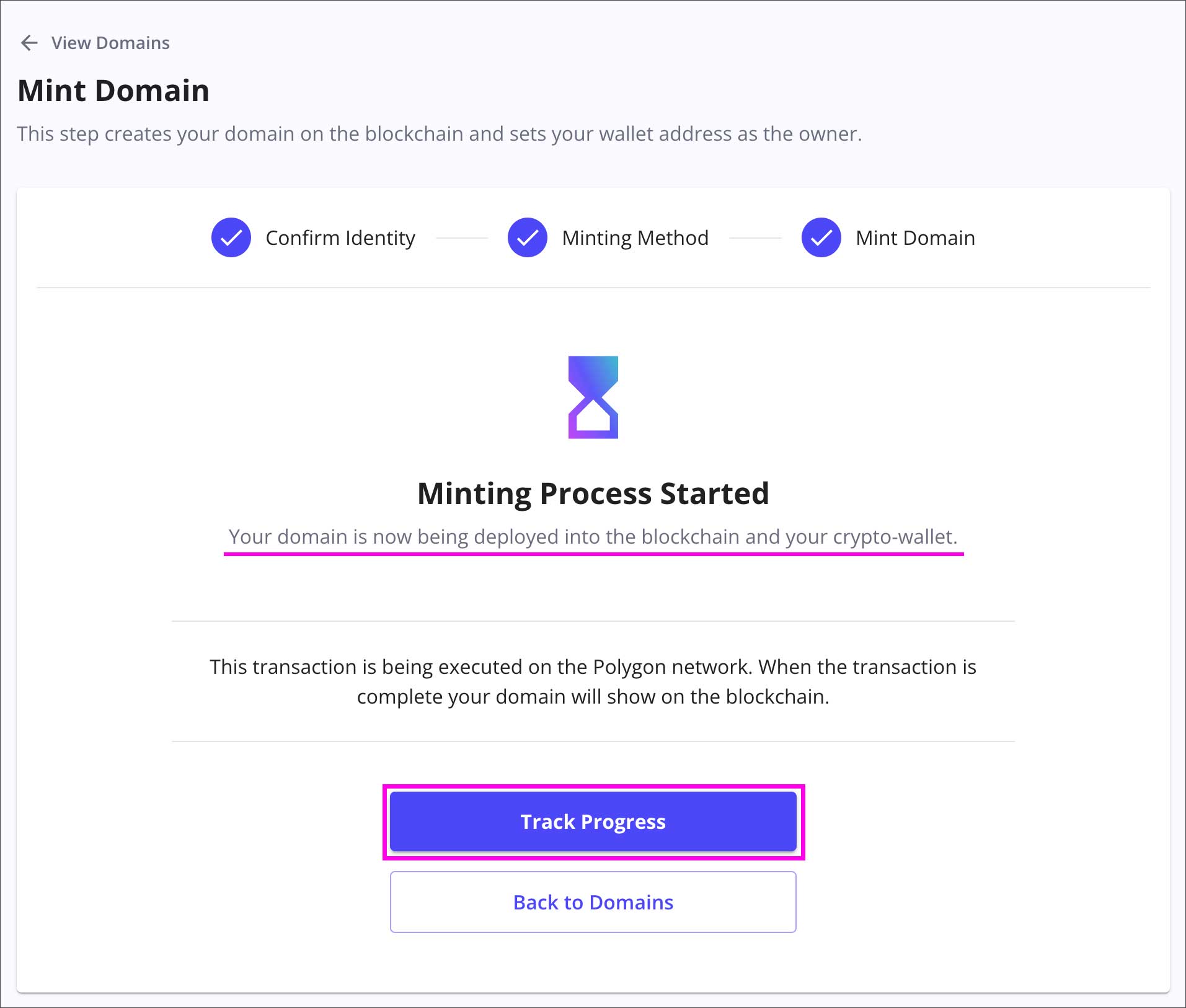 My Transactions page will appear. the Processing status of Mint Domain is "Pending".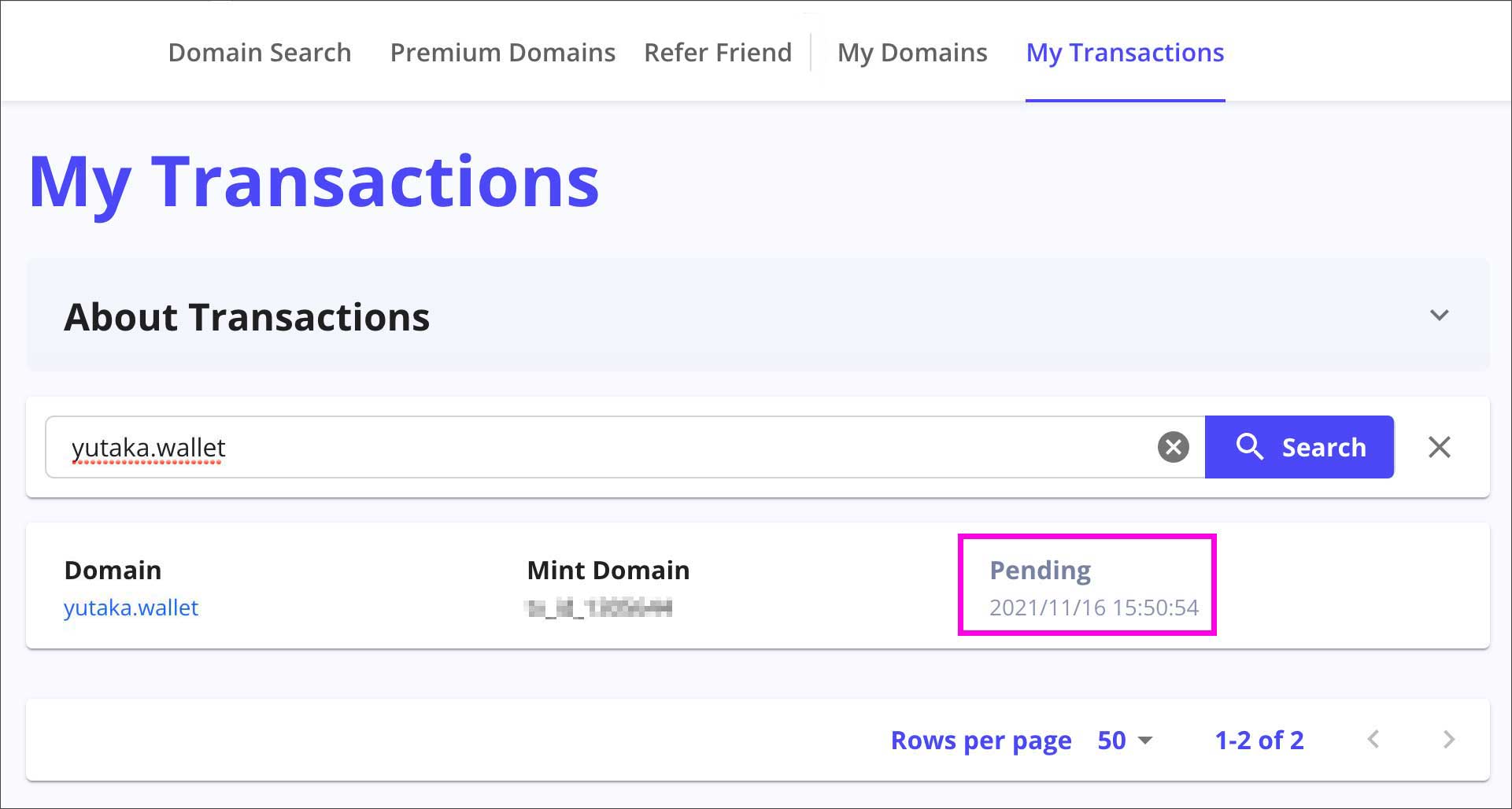 It may depend on the congestion of the blockchain, but after a while it will switch to "Completed" as shown below. Now, Ownership of your NFT domain is written on the blockchain.

Check your domain in OpenSea
When you connect the wallet with your NFT domain to "OpenSea" the NFT marketplace, you can see your NFT domain as a collection as shown below.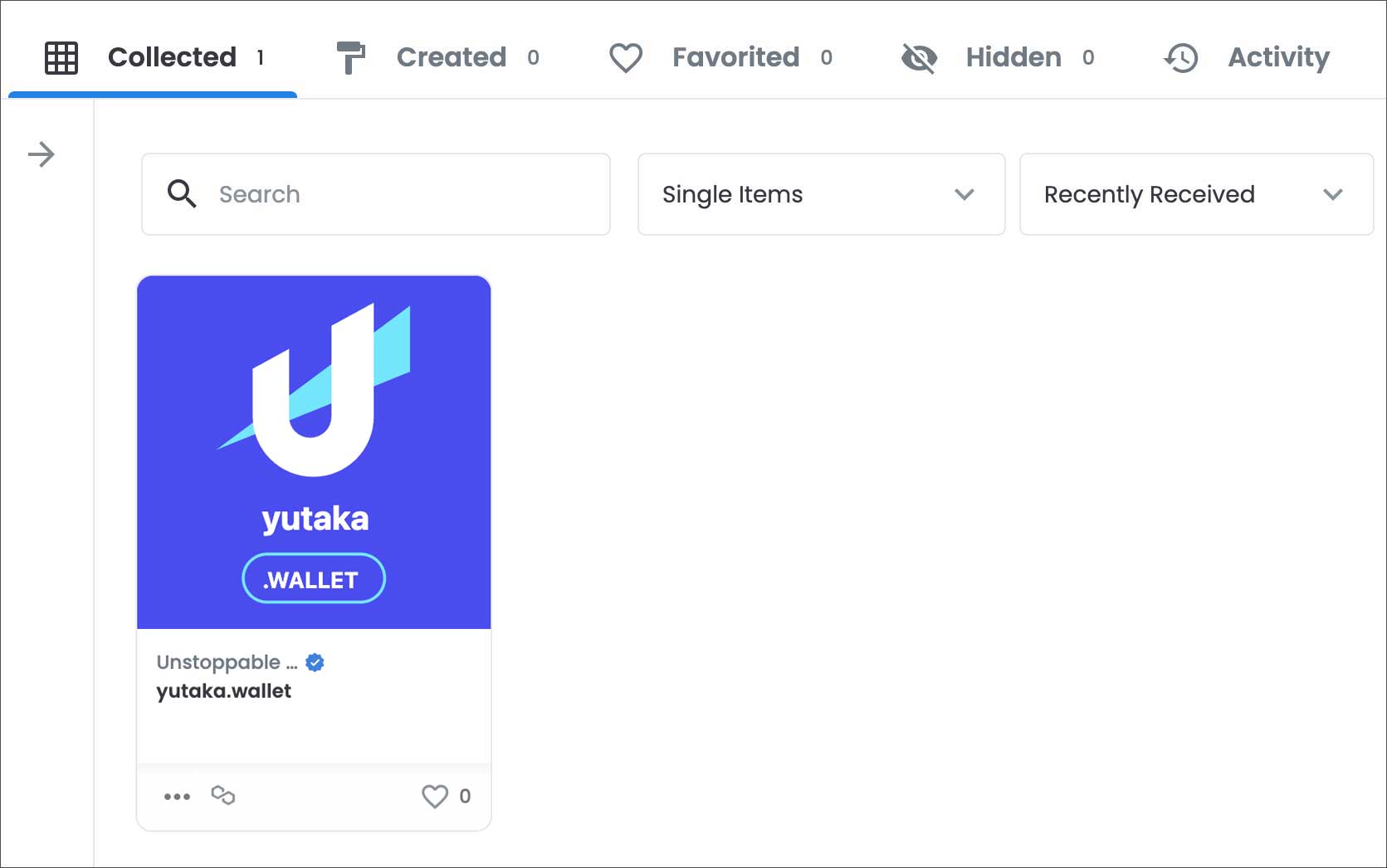 However, immediately after minting, the domain name and images may not be displayed correctly as below.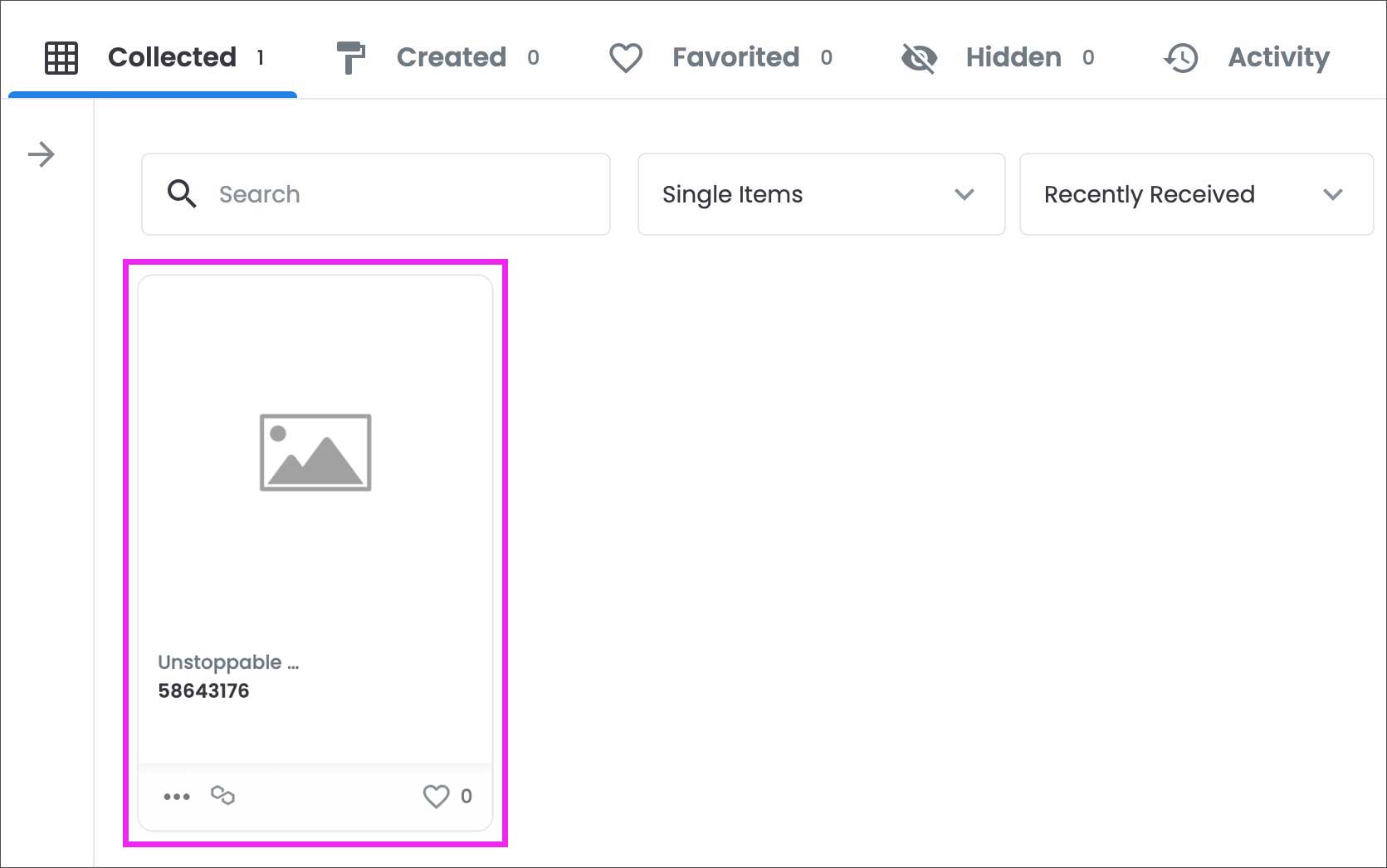 In this case, click on the item to display the detail page and press the "Refresh Button" in the upper right corner. After a while, the domain name and images will be reflected correctly. However, it may take half a day to a day to be reflected, so you should check the next day or so.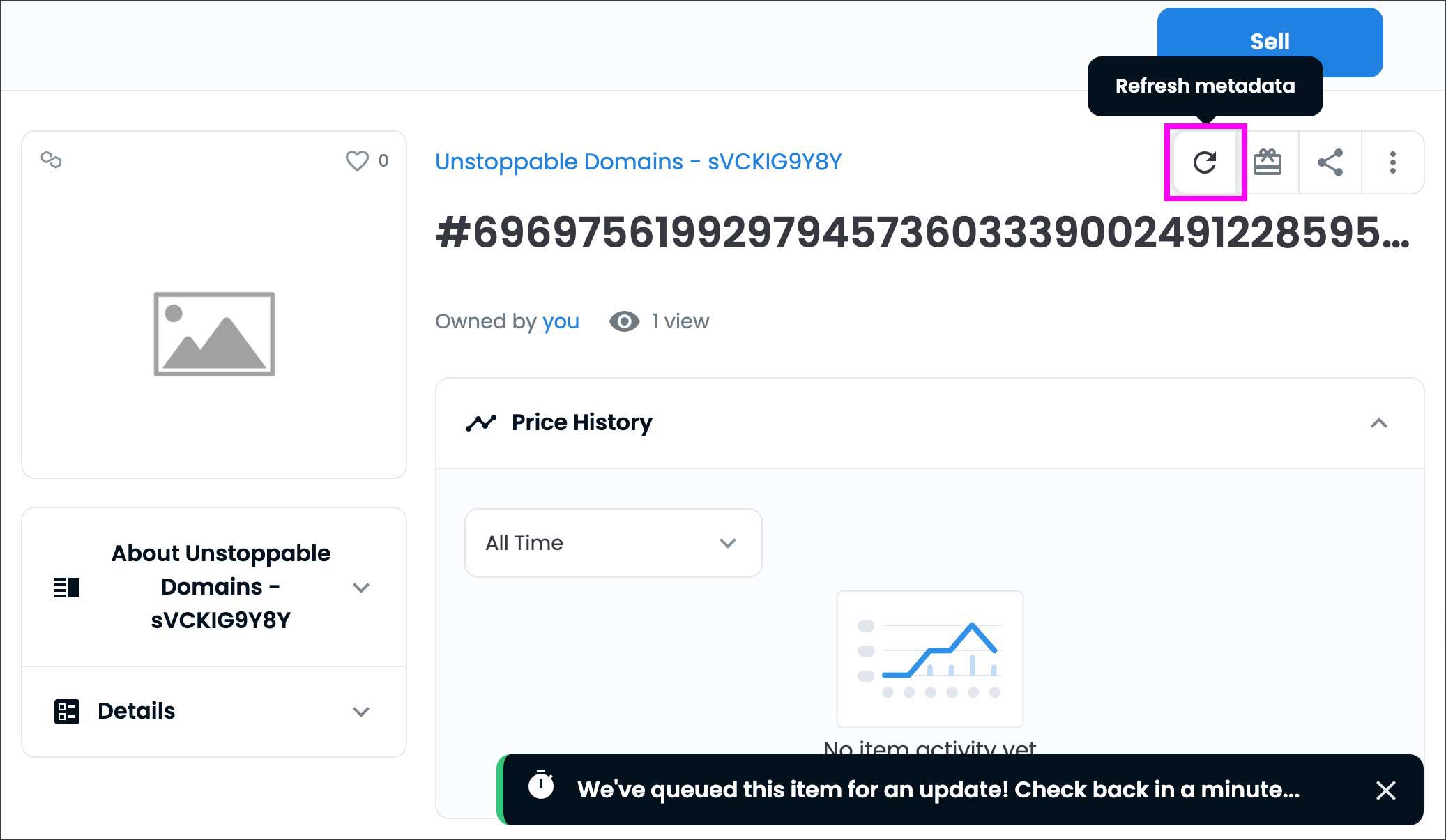 Adding crypto addresses to your domain
Once the domain is minted, you can add crypto addresses so that you can send and receive cryptocurrency with your NFT domain.

To add a crypto address, go to the My Domains page and click the "Manage" button next to the appropriate domain.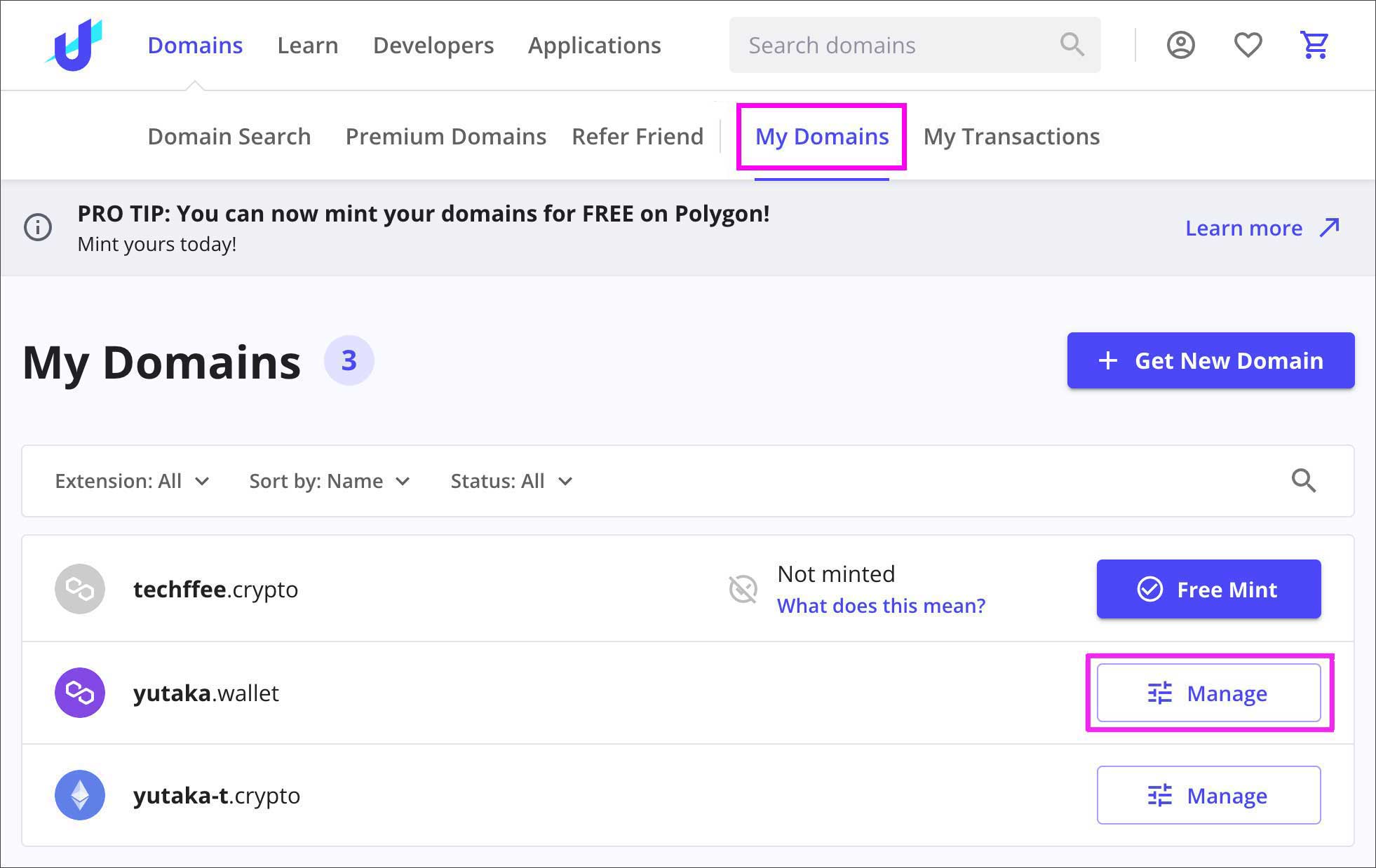 The "Manage" screen will open, and you will be prompted to enter the cryptocurrency address to be associated with the NFT domain. ETH and MATIC are already tied to your wallet address.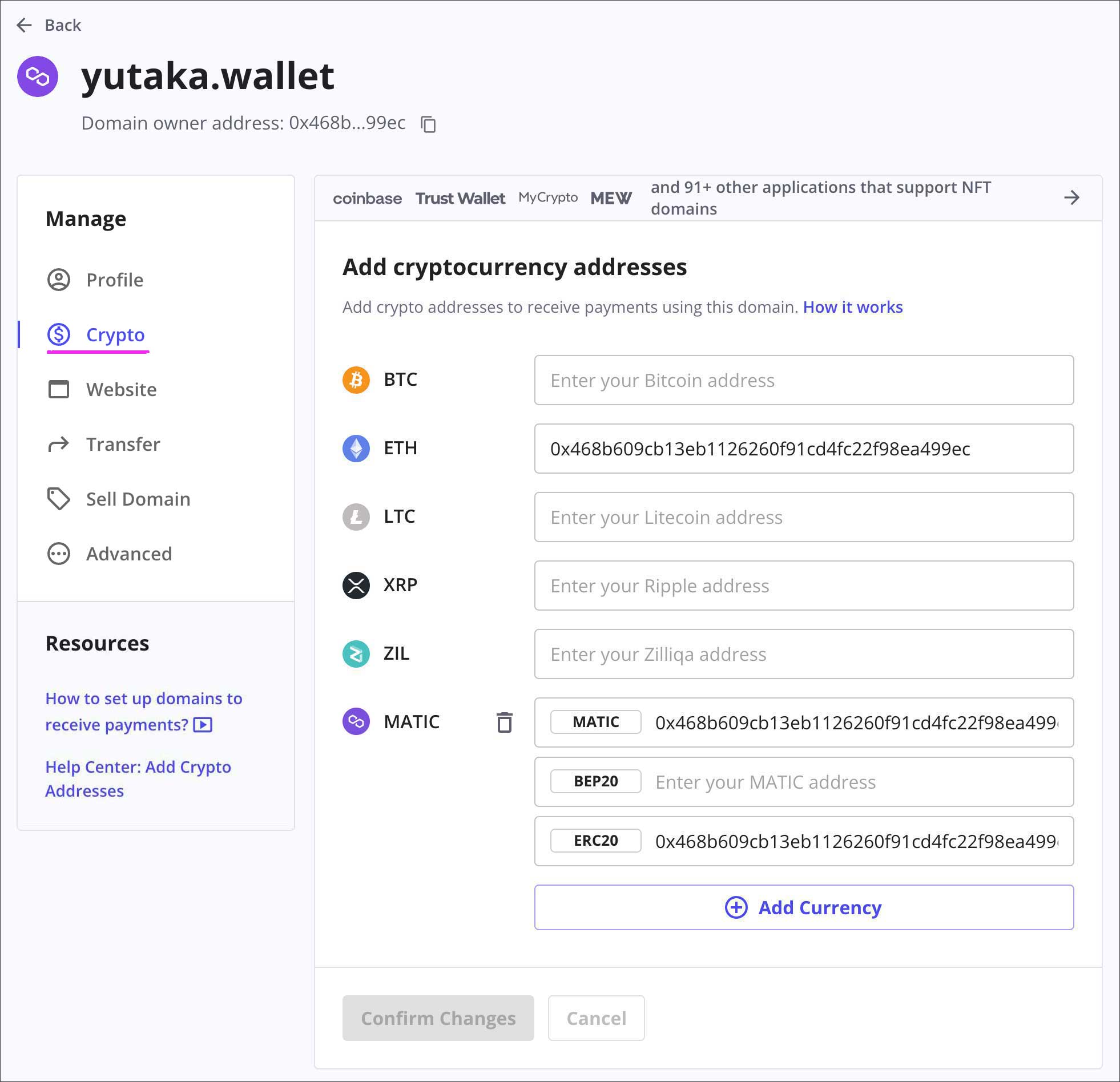 Here I add the BTC address.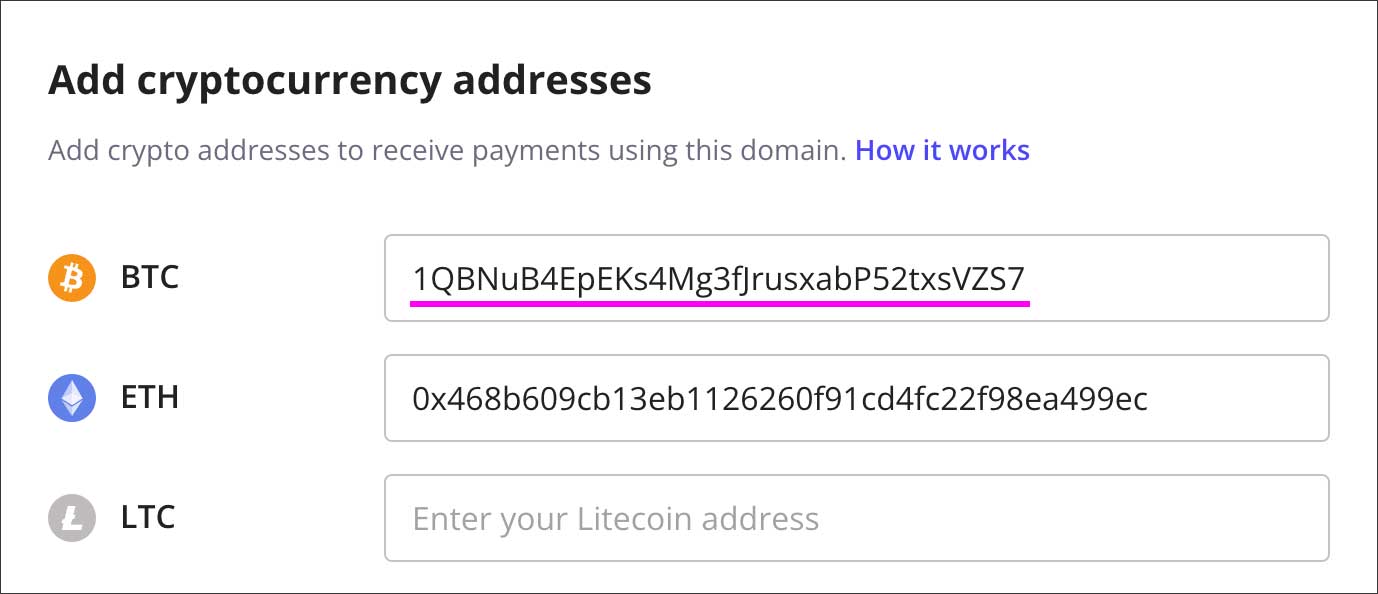 If you want to add another currency not listed here, click on "Add Currency" at the bottom of the page to find and add it.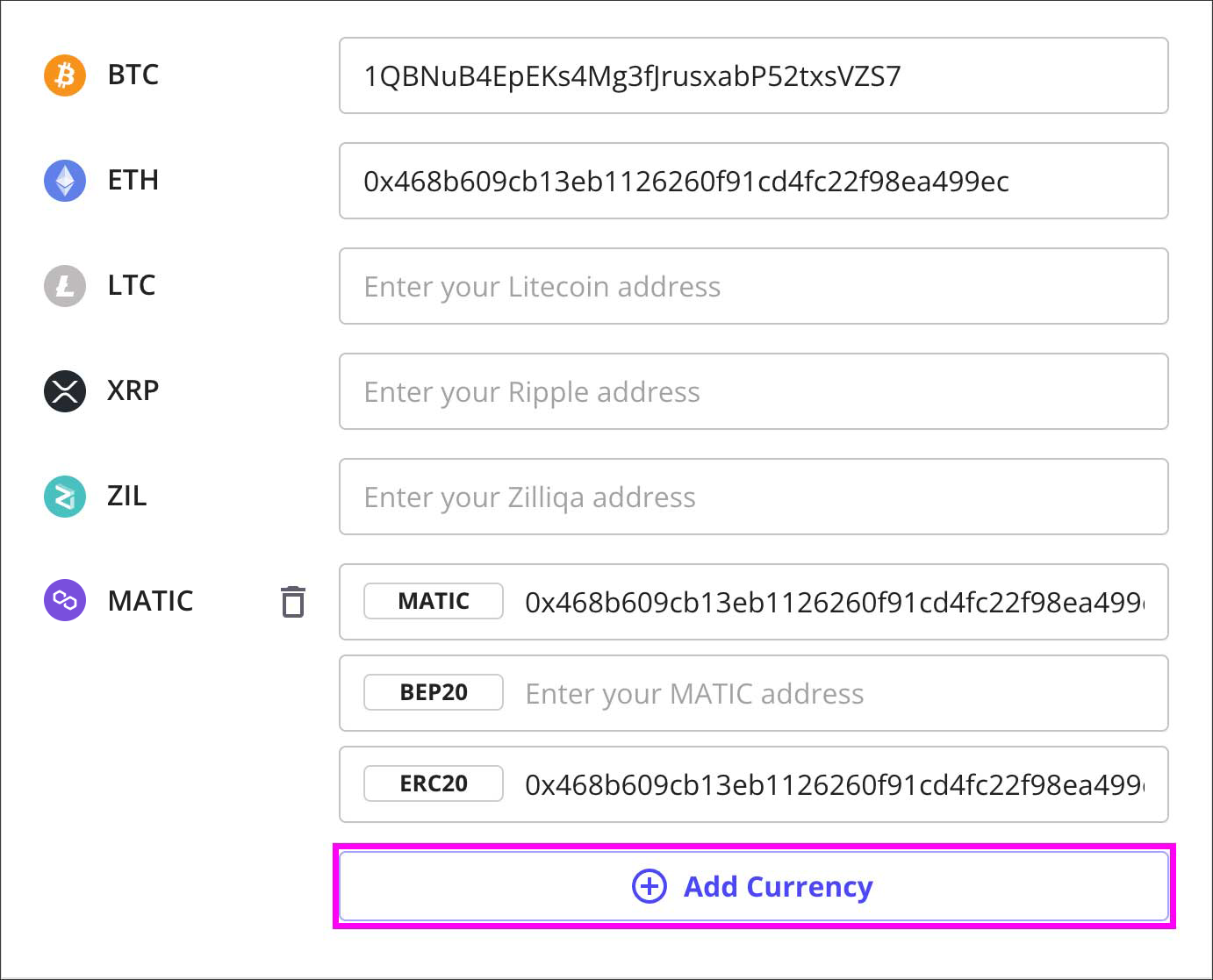 After entering the required addresses, click "Confirm Changes" at the bottom. As with Mint, you will be prompted to connect to Wallet and sign, so follow the on-screen instructions. There is no gas fee to add crypto addresses.

Click on "Track Progress" at the top.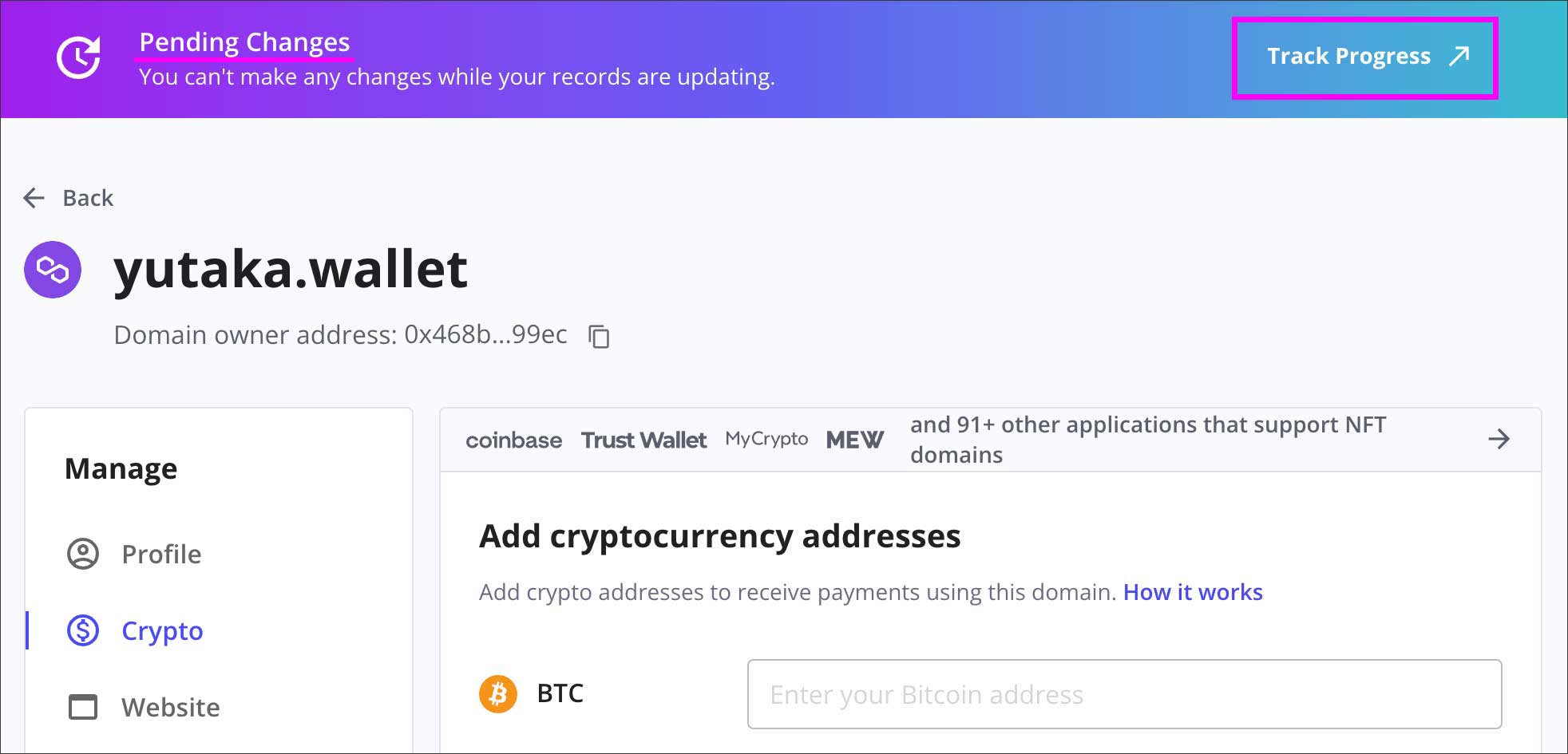 "Pending" will be displayed until the changes are completed, as below. It may take a few minutes for the process to complete.
In a few minutes, the "Completed" was displayed. The crypto addresses has now been added to your domain and can be used in wallets and exchanges that already support Unstoppable NFT domains.

Functions other than "Add crypto Address"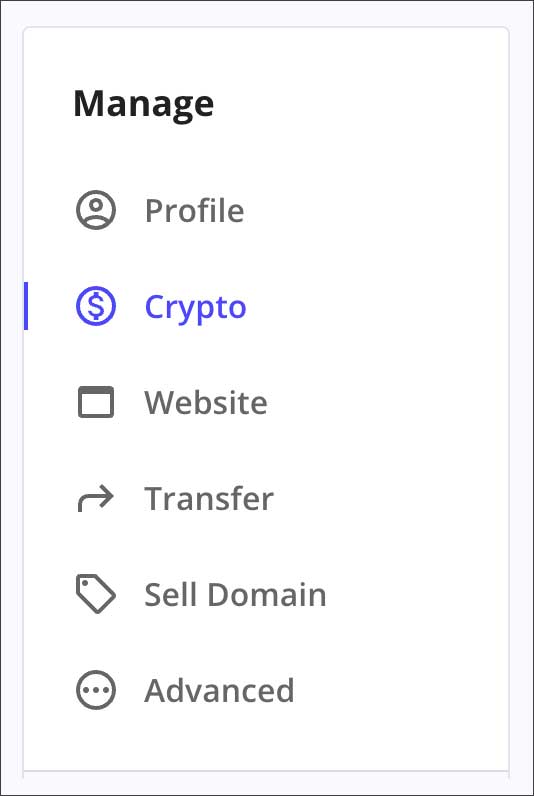 In the Manage screen, as you can see, there are many other functions available besides "Add a crypto address".

You can build a website or set up an NFT collection as your profile picture. The NFT domain is now ready to be used as a digital identity.
Send cryptocurrency to your NFT domain


I create a new wallet on the Trust Wallet app and deposit about $90 in BTC.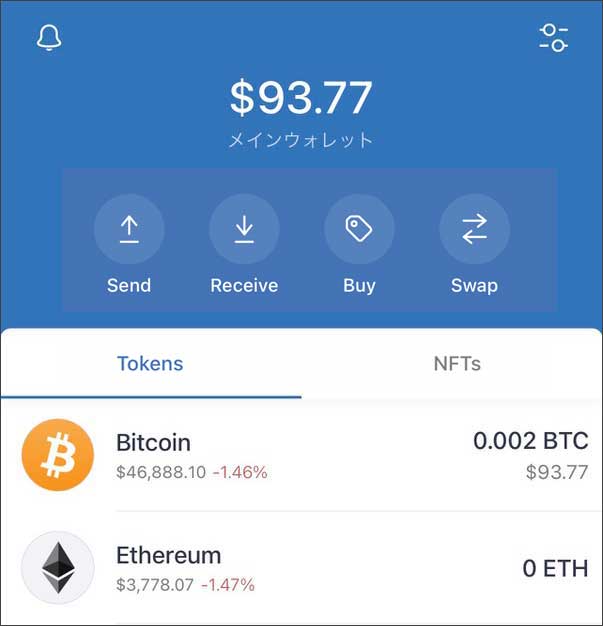 Go to the money transfer screen. Here, you usually enter a "complex alphanumeric string" as a crypto address, as shown below. You have to go to the trouble of copying and pasting every time. It is also a risk because there is a Possibility of entering wrong address.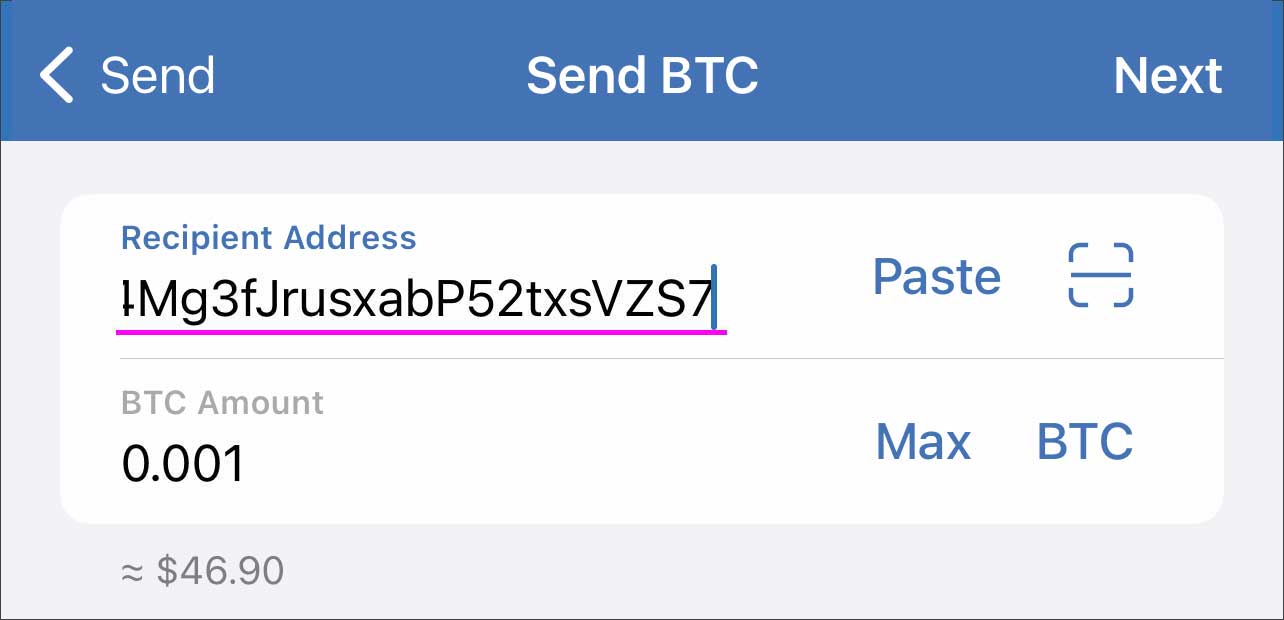 Now, enter the NFT domain address. I typed in the middle of a sentence, then, following " ! " mark appeared.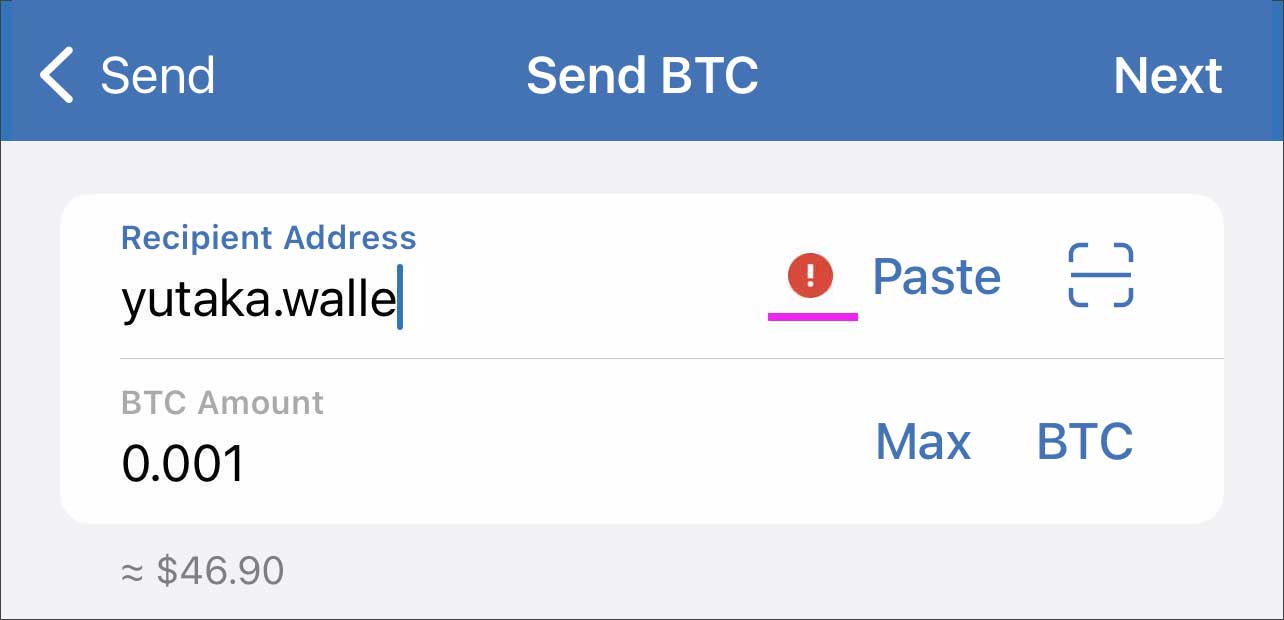 When all domain addresses have been entered, a check mark indicates that the addresses have been validated. Tap "Next.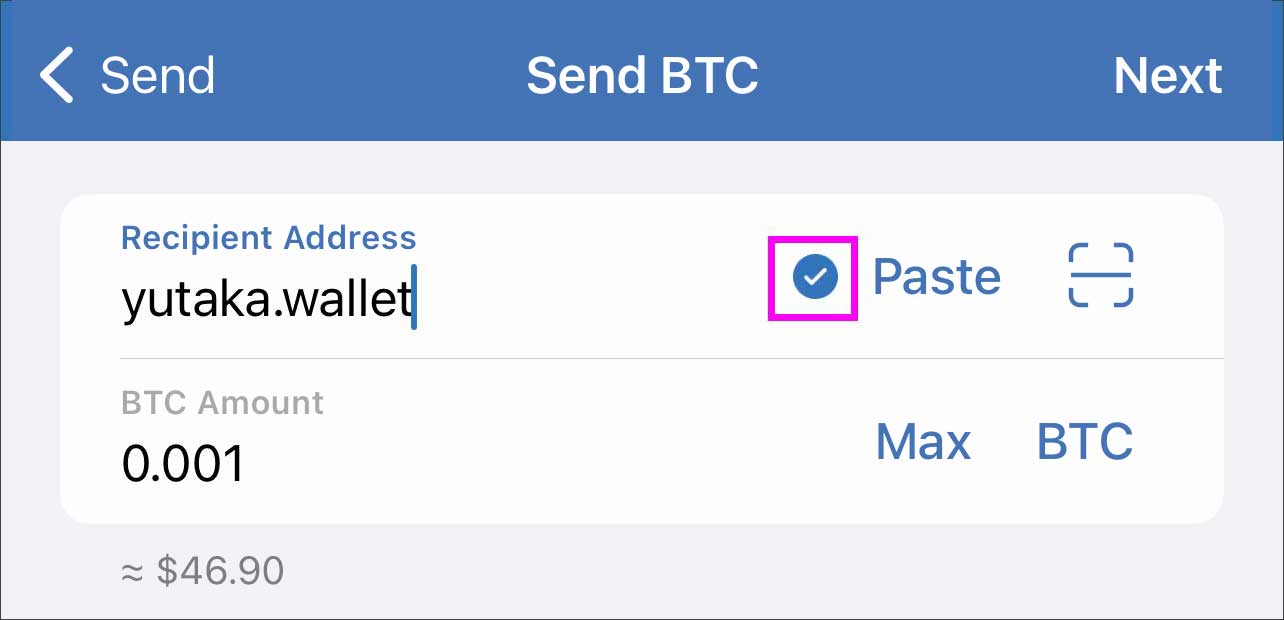 A confirmation screen will appear, and I can see that the To field is properly set to the address I registered for my NFT domain. Tap "Confirm".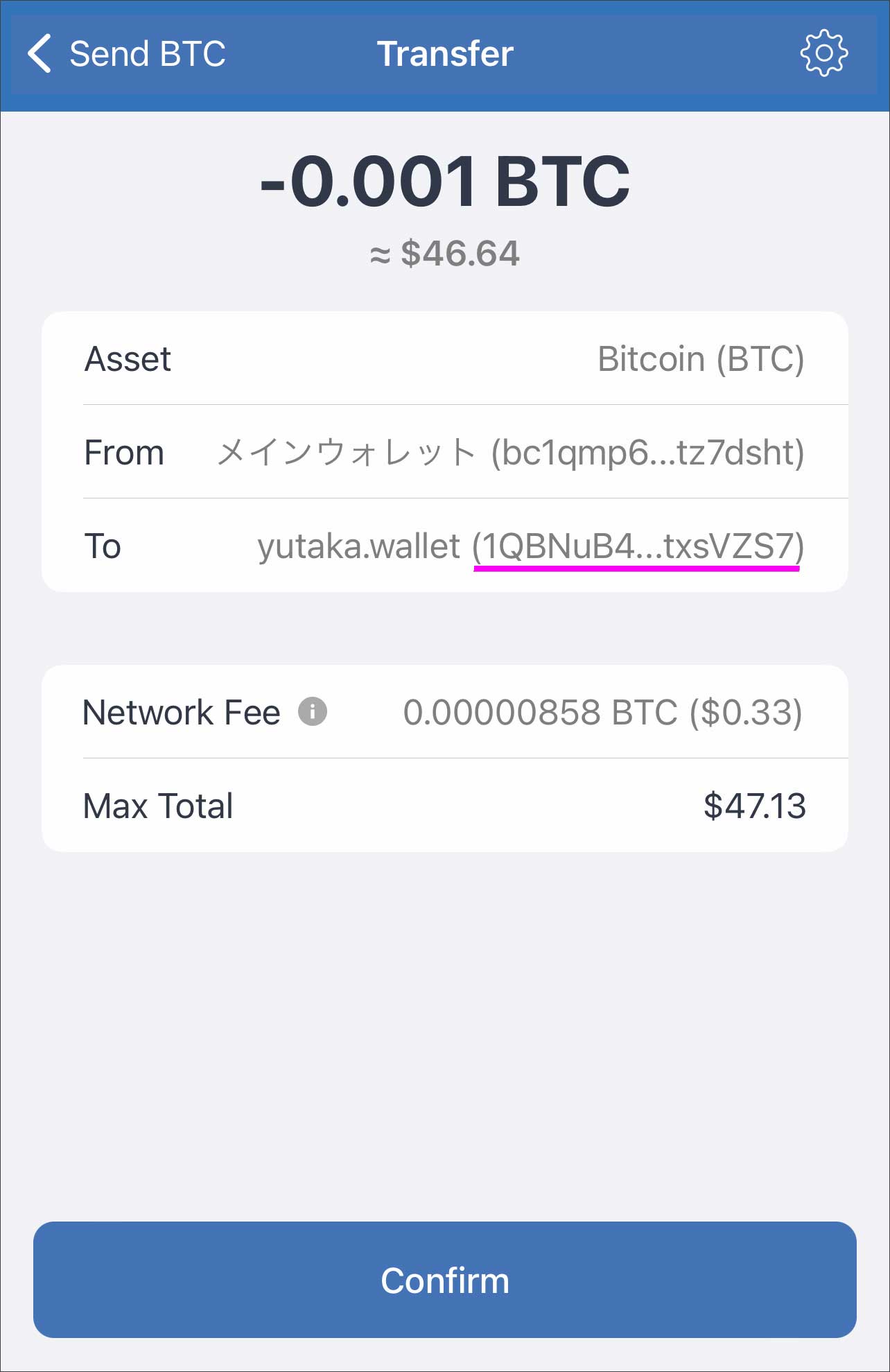 After a few minutes, "Completed" was displayed and the BTC transmission was successfully completed using my NFT domain. Of course, the recipient (Binance) has also confirmed receipt of BTC. When sending crypto for the first time, test with a small amount.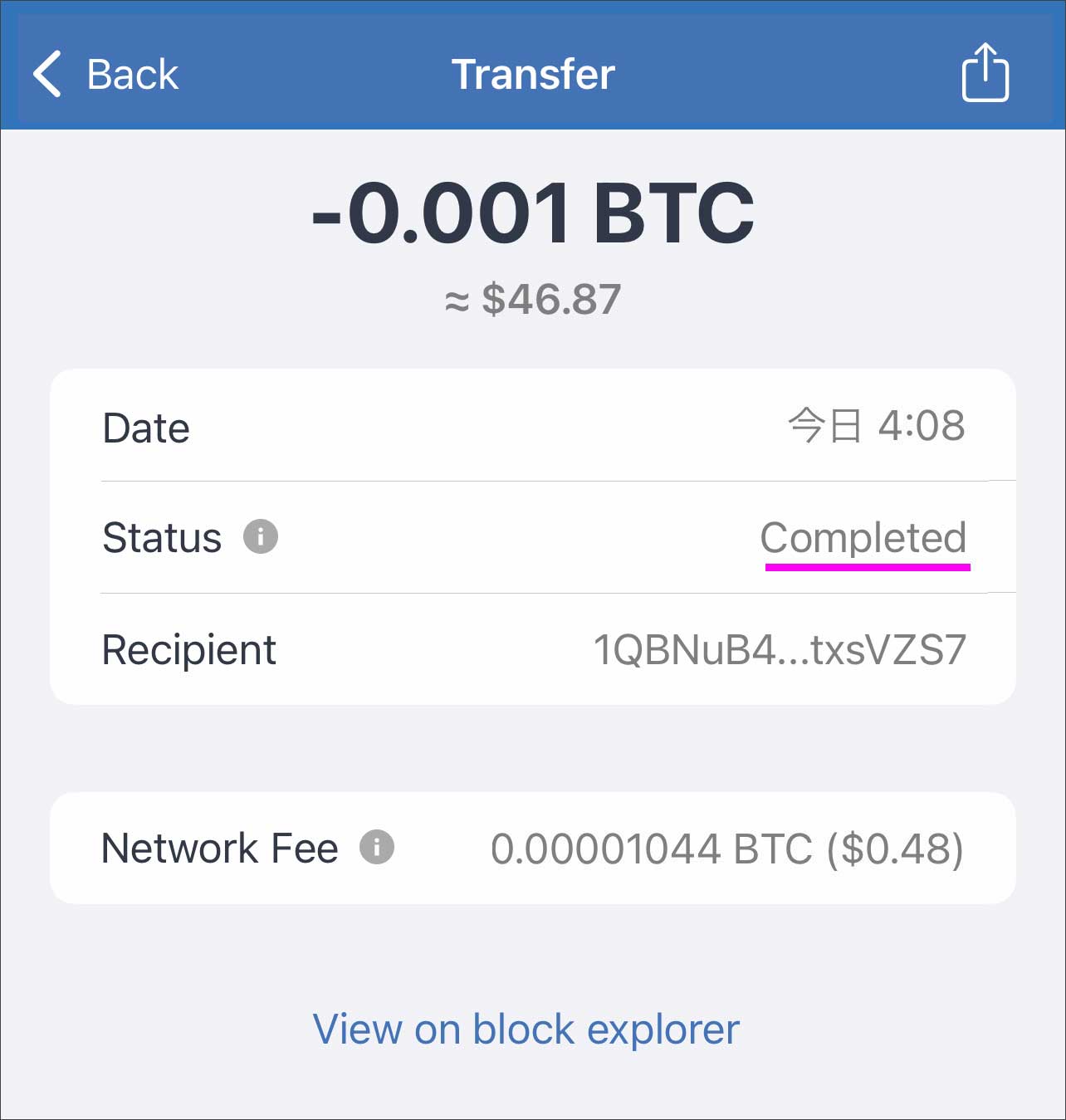 Future plans for Unstoppable Domains
Phase1: Nov 15th〜(Completed)
・Free Mint for Domains on Polygon

Phase2: Nov 29th〜(Completed)
・Free Manage Domain on Polygon

Phase3: 2022 Jan〜Feb(Completed)
・Minted domains can moved from Ethereum to Polygon

Phase3: 2022 Mar〜Apr
・Minted domains can moved from Polygon to Ethereum

* I will update this article with more information as it becomes available.🔥
NFT domains become digital identities
Currently, the following wallets already support NFT domains minted on Polygon.
Trust Wallet、Burst/Signum Wallet、Bacoor、XDEFI、Ambo、Alpha Wallet、Edge Wallet、Atomic Wallet、Coinomi Wallet、Equal Wallet、Guarda Wallet
And the function of the NFT domain is not limited to sending and receiving cryptocurrency.
New features on January 10, 2022!
A new feature, "Login with Unstoppable" was launched on January 10, 2022. This function allows you to easily and securely log in to various applications with a single domain name such as [name.crypto].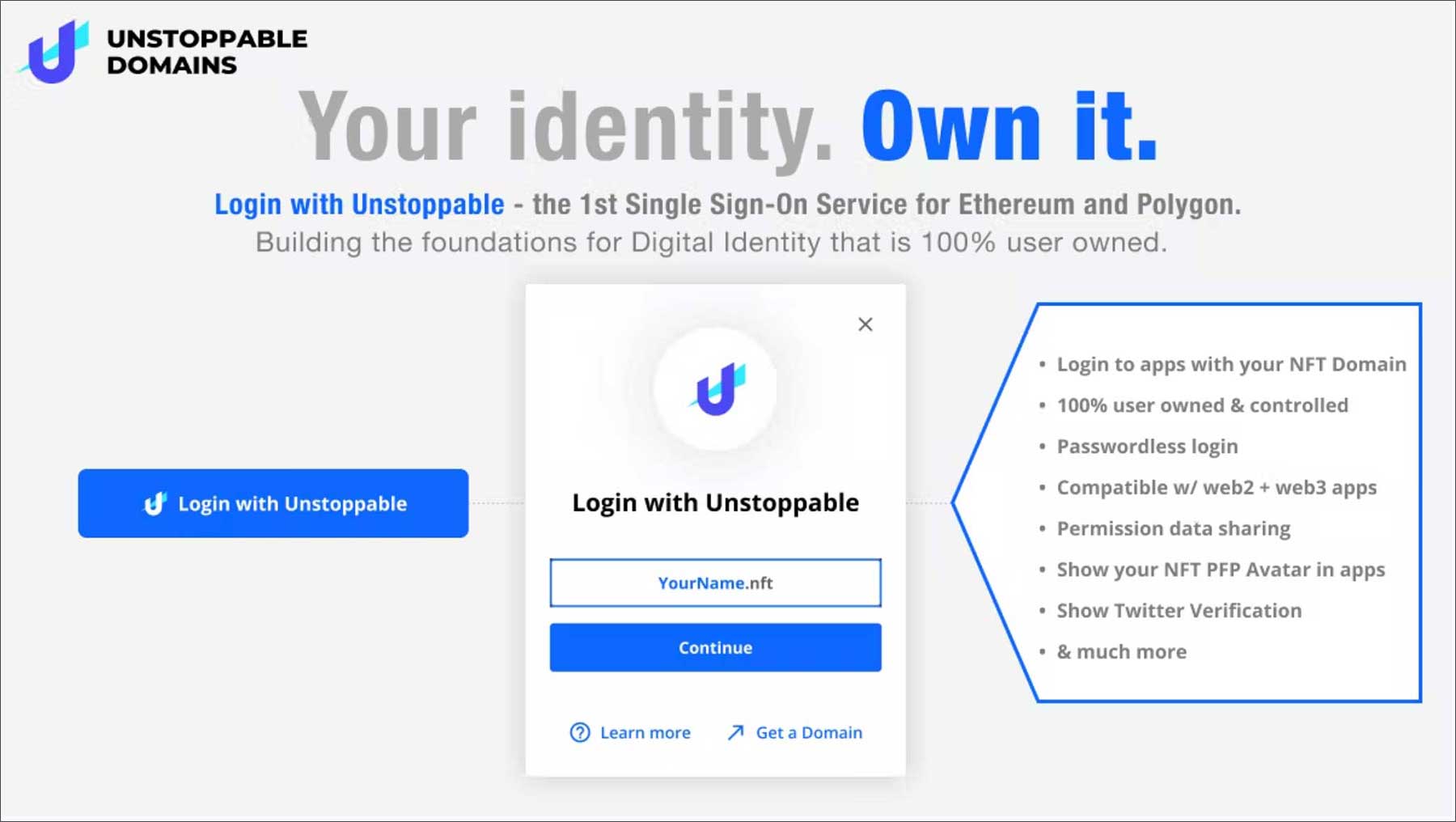 This feature allows users to carry their online "digital identity" to any web service with a single domain name.
Once a NFT domain is acquired, it is yours forever as long as you do not give it away. Depending on the domain name you get, you may also be able to sell it for a profit if it increases in value.

It can be said to be an asset on the blockchain, so it is important to first get a domain name that makes sense with Unstoppable Domains.

I will update this page as new information becomes available.